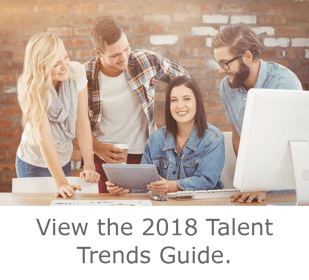 The talent market within the industry is evolving at a rapid pace. Insurance organizations face an increasingly challenging labor market, a growing talent shortage and rising turnover rates. Is your company prepared?
Here are the eight top insurance industry trends forecasted for 2018:
Employee Engagement to Address Rising Turnover Rates: A competitive landscape and increasingly candidate-focused labor market are resulting in rising industry turnover rates. Now more than ever, building employee engagement will be critical to retaining skilled, in-demand insurance talent.
Customer Experience Demands Call for Diverse, Customer-Centric Talent: The holistic customer journey is quickly becoming a critical differentiator for insurance companies. Hiring a diverse range of professionals will enable organizations to enhance their customer experience culture.
Talent Shortage is Growing for Complex, Niche Positions: The industry faces a widening gap of experienced, tenured professionals. Investing in training and development opportunities will be critical to addressing the emerging skills gap and filling these positions.
Re-Imagine Work for the 21st Century: The "future of work" is here. In order to find success, insurers must adapt to this new economic cycle defined by a workforce in flux.
Temporary Staffing Continues to Skyrocket: Traditional employment models are changing rapidly as more and more workers opt for flexible and diversified career opportunities.
Collaboration is Key to Increasingly Flexible Workplaces: Flexible work has resulted in employees working across different locations, hours and even devices. Developing a collaborative infrastructure will be key to connecting today's workforce.
Contingent Employment Rises Amid Evolving Market: Insurers continue to face evolving market changes, emerging regulations and increased demand for talent. As a result, many organizations are turning to interim professionals as a cost-effective, proven talent solution.
Human Resources to Embrace the Potential of Mobile: An increasingly connected and tech-focused workforce is driving the investment in mobile employment experiences.
Want to learn more about the top insurance industry trends anticipated in 2018? Download our full trends guide for an inside look.