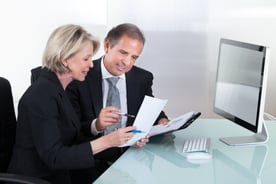 As a result of the recent economic downturn, many organizations have embraced a "doing more with less" mindset­—implementing drastic staffing changes and cuts to full-time employees. Despite the uptick in industry market conditions and a return to its pre-recession state, many insurers continue to maintain a "run lean" mentality. They are now employing a staffing strategy that provides cost-effective, proven solutions to deliver organizational support on an as-needed basis—temporary staffing.
Today, the total number of temporary employees is 2,957,500. Within the insurance industry, it is estimated that 30,000 temporary professionals are currently employed—a number that is only expected to increase. According to an Intuit report, by 2020, more than 40 percent of employees in the U.S. will be temporary, contingent employees.
Organizations utilizing temporary staffing can occasionally hit a bump in the road when integrating these professionals into their workplaces. Your full-time employees are already familiar with the office atmosphere, are aware of their current job responsibilities and often have the support that comes with working with the same colleagues day after day. Temporary employees, on the other hand, may not have any of these same advantages.
As more and more organizations continue to utilize temporary staffing, how can they best integrate these contract professionals with their full-time employees?
Set the Stage: Before a new temporary staff joins your team, set up a meeting with your permanent employees to discuss the new addition. Make sure everyone is on the same page in terms of job duties and reporting. Ask for feedback and reassure your full-time employees that their jobs are safe.
Eliminate Office Separation: Often organizations cluster their temporary employees into a conference room or into a separate cluster of cubicles. This does nothing more than literally separate them from other employees. It's hard to be engaged when you aren't working near the people you should be collaborating with. Make sure to seat temporary professionals within the group they will be working.
Introduce Who's Who: Most companies rely solely on first day introductions to ensure their contract workers have met the key players they will be working with. However, this hectic first-day is rarely conducive to remembering names and backgrounds. Instead, provide a mix of organizational charts and access to the intranet or company social media site—such as Yammer—to allow new employees to learn about their coworkers on their own time. In addition, this provides temporary staff with insights on who to contact for particular questions. Follow-up with team lunches and encourage inclusion in coffee breaks to better assimilate contract employees into your workplace.
Promote Inclusion, Not Exclusion: One key way to better integrate temporary staff is to ensure that your company culture is one of inclusivity and not exclusivity. Make sure to add temporary employees to any company-wide emails, inviting them to company-wide events and bringing them into meetings. Consider hosting social events—either during work hours or after-work—that integrate all new employees into your company culture and solidify introductions and relationships.
Schedule Time to Touch Base: Schedule time to touch base with your temporary professionals on a weekly basis. Check in on how things are going and answer any questions they may have. Consult with your team to get feedback on the performance of the new employees and nip any issues in the bud. This doesn't have to be a formal, weekly evaluation. It can be as simple as a Skype chat or just a drop in at their workstation.
Temporary staffing continues to play a vital role in the industry's labor market and will only continue to do so. In light of the growing use of contract professionals, seamless integration is key to making your workforce more productive and ensuring your return on investment.