The insurance labor market remains incredibly tight, with a slight drop in unemployment and the loss of 1,400 jobs in March. Unemployment also fell for the overall U.S. economy, which has seen a 14-month streak of steady job growth. Job openings within the larger finance and insurance sector remain relatively high; yet, the industry continues to lack available talent to fill these open roles.
Wages have increased year-over-year in all insurance categories and insurers are having to get creative with their talent acquisition and management strategies, including navigating counteroffers and building total rewards packages that complement individuals' driving motivators. The fight to attract and retain talent persists amid the most challenging labor market in recent history.


AT-A-GLANCE NUMBERS


Unemployment for the insurance carriers and related activities sector slightly decreased to 1.5% in March.
The insurance carriers and related activities sector lost

1,400

jobs in March.
At roughly 2.8 million jobs, industry employment increased by approximately 3,700 jobs compared to March 2021.
The U.S. unemployment rate decreased to 3.6% in March and the overall economy added

431,000

jobs.
INDUSTRY HIGHLIGHTS
On a year-to-year basis, February* insurance industry employment saw job increases in claims (up 9.4%), title (up 6.3%), agents/brokers (up 2.9%) and TPAs (up 0.8%). Meanwhile, job decreases were seen for reinsurance (down 4.7%), property and casualty (down 3.2%), and life/health (down 1.6%).

On a year-to-year basis, February* saw weekly wage increases in all categories: life/health (up 5.8%), claims (up 4.8%), TPAs (up 4.1%), title (up 3.7%),

reinsurance (up 3.3%), agents/brokers (up 2%),

and property and casualty (up 0.7%).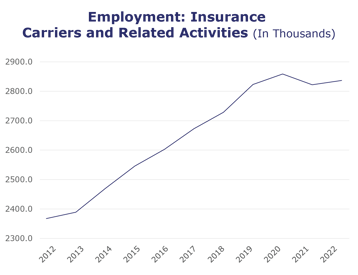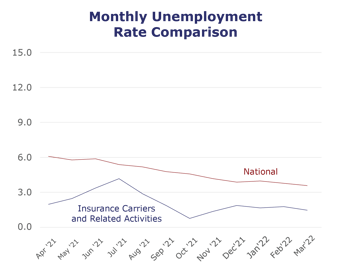 BLS Reported Adjustments: Adjusted employment numbers for February show the industry saw an increase of 3,300 jobs, compared to the previously reported increase of 6,300 jobs. The BLS continues to revise numbers to be most accurate, which may contribute to inconsistencies, depending on when reports were pulled.
*The BLS reports on wages and employment for the industry category are only available for two months prior.
The source for the data represented in PULSE is the U.S. Bureau of Labor Statistics. Insurance data is derived from the insurance carriers and related activities sector.