Each month, we highlight a few of our corporate employees from across The Jacobson Group as they share a bit about themselves and their roles. Get to know this month's featured individuals below, along with a glimpse into how they're keeping entertained while staying home.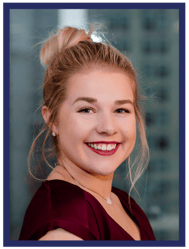 RACHEL GIESE
Visual Design Coordinator, 1 year, 7 months at Jacobson
Hometown: Schererville, Indiana
Alma Mater: Ball State University
Describe Your Role: As a visual design coordinator, I serve as one of the primary graphic designers at Jacobson. I create visually engaging thought leadership, advertisements and more. I also work with my team to create a marketing strategy that furthers our brand image.
Favorite Thing about Jacobson: I am normally a full-time remote employee, and I still feel involved and part of the team. They're truly a family and make work enjoyable.
Jacobson in Three Words: Dynamic, Committed, Unique
Favorite Book: I've read the Harry Potter series more than 15 times... Is that borderline obsessive?
Surprising Fact about You: I am a movie fanatic. I own close to 400 movies, which is helping me pass the time at home!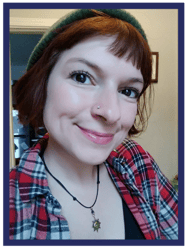 CHRISTINE WORDEN
Administrative Coordinator, 4 years at Jacobson
Hometown: Midland, Michigan
Alma Mater: Hope College
Describe Your Role: Under normal circumstances, I spend part of my day coordinating travel for Jacobson employees and for consultants who travel to client sites. I also answer the main phone line, help with mailing and shipping, and ensure Jacobson continues to be a great place to work!
Favorite Thing about Jacobson: I genuinely look forward to connecting with my wonderful coworkers every day. My teammates are unique, caring and hilarious.
Jacobson in Three Words: Adaptable, Supportive, Family
Favorite Movie: The Princess Bride
Surprising Fact about You: One of my favorite activities is hula hooping! I've been hula hooping in my apartment to stay active.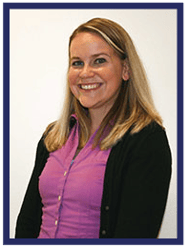 ERIN SHAUGHNESSY
Senior Recruiter, 5 years at Jacobson
Hometown: Oak Forest, Illinois
Alma Mater: Loyola University Chicago
Describe Your Role: As a senior recruiter, I match qualified candidates to our clients' career openings. I make sure that it is a mutual fit for both parties.
Favorite Thing about Jacobson: My favorite thing about Jacobson is the people I work with. All of our employees are dedicated to serving our clients and making Jacobson one of the best places to work.
Jacobson in Three Words: Teamwork, Culture, Service
Favorite Music: Country. My favorite artist is Eric Church.
Bucket List Item: I would love to go to Ireland when we're able to travel again.
As most professionals continue to work remotely, we've compiled a few helpful resources for staying productive and focused. View the infographic above and check out our recent blog posts, "Best Practices for Working from Home" and "Maintaining Effective Communication When Working Remotely."
You can view previous editions of our Employee Spotlight here.