We're reaching the end of a year like no other, and it seems like one of the only things that stayed consistent throughout the year is the value of virtual interactions. As you continue to perfect the art of virtual relationships, check out our recent blog post on how to most effectively participate in videos calls, from looking the part to following the unwritten rules of Zoom.
The staff members represented in this quarter's employee spotlight roundup look forward to making more virtual connections in 2021. Learn more about these employees below, and view previous editions of our employee spotlight here. (Did you know you can see employee spotlights on a monthly basis on our Facebook page?)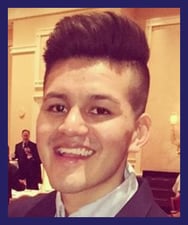 JUAN RUBIO
Contracts Administrator, 6 years at Jacobson
Hometown: Rolling Meadows, Illinois
Alma Mater: Loyola University Chicago
Describe Your Role: I maintain general administration of client and vendor contracts and administer key compliance and risk management procedures.
Jacobson in Three Words: Inclusive, Collaborative, Trusting
Favorite Movie: Hocus Pocus
Surprising Fact about You: My favorite sport is water polo and I played in high school.
Weekend Plans: I'll be at the dog park with my puppy, Nova!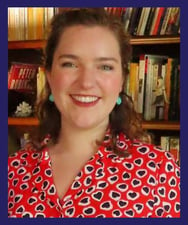 SHELBY KLING
Senior Marketing Communications Coordinator, 4 years at Jacobson
Hometown: Dallas, Texas
Alma Mater: Northwestern University
Describe Your Role: I'm a marketing generalist, meaning I take on a wide variety of tasks, from conference coordination to content creation to email marketing. I'm also Jacobson's social media coordinator, managing our Facebook, LinkedIn and Twitter accounts. (Find us on Twitter at @JacobsonGroup and @JacobsonCareers.)
Jacobson Superpower: I'm a copyediting wiz!
Favorite Band: Guster. I was lucky enough to see them perform on Chicago's Montrose Beach in 2011 and got pulled up into the VIP section!
Weekend Plans: Hanging out on my couch, likely watching football (go Cowboys and 'Cats!) or reading Real Simple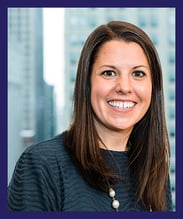 BLAKE GRIMM
Assistant Vice President, 15 years at Jacobson
Hometown: Berwyn, Pennsylvania
Alma Mater: Roanoke College
Describe Your Role: I develop and maintain client and candidate relationships across the insurance industry, working very closely with clients to fulfill their direct-hire staffing needs. I'm motivated by knowing my work changes people's lives and solves clients' challenges.
Jacobson in Three Words: Professional, Collaborative, Supportive
Favorite Book: Currently, The Great Alone by Kristin Hannah
Ideal Lunch Break: Sneaking in a quick six-mile run
Bucket List Item: I would love to go to Italy.
Looking to join these employees? View our corporate careers page here.