For the past 18 months, job seekers have experienced a shifting labor market and many uncertainties. Now, as professionals feel a greater sense of stability, many are reevaluating their current roles and priorities, and seeking out employers who can best meet their needs. Although insurance industry unemployment rose to 4.2% in July, we're seeing an increasingly active recruiting climate.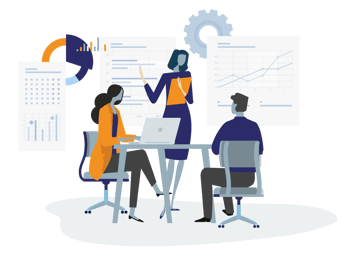 According to our recent Q3 2021 Insurance Labor Outlook Study, conducted in partnership with Aon plc, 56% of insurers plan to increase staff in the coming year and 37% plan to maintain their current headcounts. The most common reasons for anticipated increases in staff are understaffed departments and increases in business volume. Technology, claims and operations roles are expected to see the greatest growth. In fact, during the past two years, operations has moved from the sixth to the third area where insurers are most likely to add staff.

For the first time in the study's history, respondents shared that all functional areas are moderately difficult to difficult to fill. Technology, analytics and actuarial roles are considered the most challenging. Of those insurers planning to add to their operations teams, more than half are most in need of entry-level employees. This may be due to insurers now competing with service roles and other industries for opportunities that require less experience. Overall, three-quarters of insurers reported they are most likely to add experienced-level professionals. Almost one quarter plan to add entry-level staff and the remaining 2% are most likely to add executives.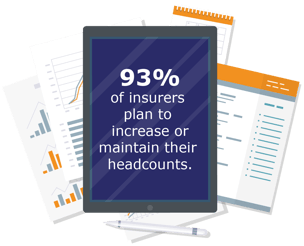 Just 7% of insurers plan to decrease staff in the next 12 months, which is down 2 percentage points from January 2021 and 10 points from July 2020. Reorganization and automation are the primary reasons cited for staffing reductions. It's likely many of these reductions will come in the form of early retirements or not backfilling positions left open due to standard attrition.

Most insurers are adjusting their approach to flexible work options to accommodate employees' needs. Just 4% don't foresee changes to their pre-COVID working arrangements as offices reopen. About half are planning to offer full-time remote work.

The Q3 2021 Insurance Labor Outlook Study took place from July 14 through August 1, 2021, with participation from insurance carriers across all industry sectors. Now in its 25th iteration, the semi-annual survey collects and examines data on insurance industry hiring, as well as revenue trends and projections. For more insight on the findings, listen to our latest episode of The Insurance Talent Podcast. To download the full report or view the results webcast presentation, click here.

As you consider your next career move, check out our recent posts on gauging company culture in the interview process and continuing to develop as a leader in the remote environment.