While many aspects of recruiting and hiring have evolved over the years (and fairly dramatically in just the past few months), employers don't always give the same attention to their job postings. If your team has been using templated listings or doesn't remember the last time they've made updates to language and format, it may be time for an overhaul. Take a fresh look to make sure you're presenting your open positions in a way that is effective in attracting the right talent.
Especially now, when networking and face-to-face interactions are limited, a job posting may be someone's first introduction to your company. What do you want them to take away as a first impression? Are you capturing the values and culture of your organization, or do your postings seem flat and generic? Here are a few best practices to keep in mind to ensure your posts are as compelling as possible.
Focus on the candidate.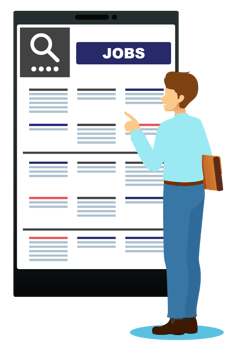 Instead of approaching the job from the perspective of the company and what you are looking for in an employee, consider what's in it for the candidate. What sets your role apart from other similar positions? What will they gain if they join your team, and how will their professional needs be fulfilled?
Make it readable.
Today, most individuals are scrolling job openings from their phones. While dense blocks of text may be acceptable on desktops, think about how you can make your content more mobile-friendly. Include white space, headers and bullets. Additionally, don't make your posts too long, as you'll lose the reader's interest. Stick to the vital information, rather than pasting in paragraphs of boilerplate copy.
Use inclusive language.
Be proactive in ensuring your postings are inclusive of all qualified prospects. Often posts unintentionally exclude certain groups of people by using gendered language, unnecessarily limiting geographic locations, or listing required skills that can be easily learned on the job. For instance, ZipRecruiter found 91 percent of finance and insurance job listings use words that are considered gendered. This could be using terms such as "ninja" or phrases about the company's "dominance in the marketplace" versus the more neutrally phrased "excellence in the marketplace."
Edit your list of requirements.
It can be easy to go overboard when putting together a list of requirements for a role. However, is each one really necessary for success? An expansive list of requirements and experiences may seem like it will help bring in the best person for the role, but it's more likely it will do the opposite, by limiting applicants. Take time to reevaluate what is truly needed for someone to be successful in the position and focus on three to five "must haves."

Focus on skills.
Recruit for the role's required skills, rather than experience. For instance, if you're searching for a customer service professional, instead of requiring a specific number of years working in customer service, you could highlight communication and problem-solving skills. This might open the door for individuals who have the right skills, even if they lack the exact former job titles.
Tell a compelling story.
In addition to sharing requirements and responsibilities, how can you incorporate your company's personality and values? Has the posting been updated since it was last filled? Is everything still relevant and does it convey your company's brand and voice? Rather than list the responsibilities of the role, share how the position impacts the company and its customers. Help applicants understand how they would be a part of something larger.
Be creative.
All job postings don't have to look the same or follow a standard format. Don't be afraid to stand out from the crowd and be creative. Consider how you can get the attention of the right individuals. For instance, if the role requires creativity and innovation, channel that as you write the description and explain the role.
Update your post regularly.
Continue to evolve your post as needs change or to adapt to the response it is receiving. If your job posting isn't attracting the candidates you'd hoped, or if you are not getting many applicants, make adjustments. You may also consider including information about remote onboarding or expectations around returning to a physical office, depending on office openings and procedures.

Reach the right individuals.
While promoting positions on your website, external job boards and social media is important, also enlist thought leaders to help expand its reach. If there are influential people you respect within the space – especially if you have an existing relationship with them – ask if they would mind reposting or sharing the open role with their network.
By reimagining your job postings, you'll be able to better convey your employer brand and communicate the value of the role. Rather than viewing your postings as a formality or template, consider how you can give them new life, appeal to the right talent and set yourself apart from the competition.