We're closing out 2021 on a positive note, with a low unemployment rate and the addition of new jobs within the insurance carriers and related activities sector. This year has seen numerous shifts, including changing candidate expectations, an intensifying war for talent and continued reshuffling.
The unemployment rate for insurance carriers and related industries remains low, with a slight increase in November to 1.4%. We're also experiencing a significant amount of turnover in the larger finance and insurance industry. While this data is slightly delayed*, retirements and quits were high in September, reflective of "the Great Resignation." Hiring has also accelerated within finance and insurance, contributing to the industry's continued reshuffling.

We anticipate this movement will persist throughout the end of the year. Insurers must continue to focus on monitoring employee needs and determining how to best meet their individual expectations in order to retain talent and avoid losing high performers to their competition.


AT-A-GLANCE NUMBERS


Unemployment for the insurance carriers and related activities sector increased to 1.4% in November.
The insurance carriers and related activities sector gained

2,500

jobs in November.
At roughly 2.9 million jobs, industry employment decreased by approximately 200 jobs compared to November 2020.
The U.S. unemployment rate decreased to 4.2% in November and the overall economy added

210,000

jobs.
INDUSTRY HIGHLIGHTS
On a year-to-year basis, October** insurance industry employment saw job increases in title (up 10.8%) and agents/brokers (up 1.7%). Meanwhile, job decreases were seen for reinsurance (down 3.4%), claims (down 3.3%), property and casualty (down 3.1%), TPAs (down 0.8%) and life/health (down 0.4%).

On a year-to-year basis, October** saw weekly wage increases in claims (up 3.6%), life/health (up 3.3%), TPAs (up 1.7%), agents/brokers (up 0.4%), reinsurance (up 0.3%) and property and casualty (up 0.1%). Meanwhile, wage decreases were seen for title (down 6.5%).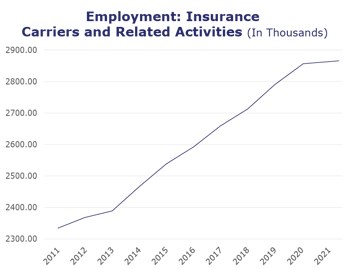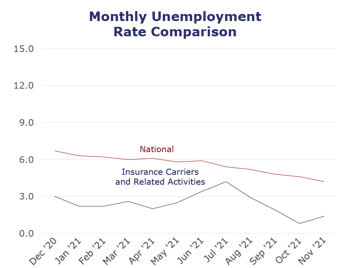 BLS Reported Adjustments: Adjusted employment numbers for October show the industry saw an increase of 3,800 jobs, compared to the previously reported decrease of 900 jobs. The BLS continues to revise numbers to be most accurate, which may contribute to inconsistencies, depending on when reports were pulled.
*September is the most recently available JOLTS information from the BLS.
**The BLS reports on wages and employment for the industry category are only available for two months prior.
The source for the data represented in PULSE is the U.S. Bureau of Labor Statistics. Insurance data is derived from the insurance carriers and related activities sector.