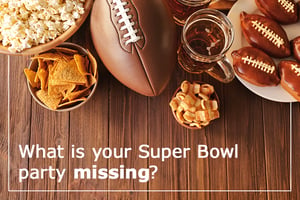 The screen is up and running, burgers are sizzling on the grill and the beers are taking an ice bath. You even have chips and dip ready along with the number for a local pizzeria in case the food runs out. But is that all you need to prepare for your Super Bowl party? Is there anything you are missing?

Mercedes-Benz Stadium will attract 71,000 football fans from all over the country for this year's Super Bowl and that's quite a number. But the truth is, nine out of 10 viewers are going to be watching from home, whether theirs or a friend's or relative's. Why yes, watching the biggest game of the year from the comfort of your own home may seem like the safest way to enjoy the show, but hosting a Super Bowl party comes with its fair share of risks.
You can't be completely party-ready until you have the right insurance in place to properly respond to accidents. Read on to learn why insurance should be on your list of party must-haves:
1. Interceptions Can Happen Off the Field
It is easy to lose track of who's at your party when your guests decide to bring along a few friends of their own. After the game is over, the celebratory mood may not last long when you discover your jewelry or other valuables are missing. Personal property coverage and renters insurance can help you replace those items up to your policy's limits. Remember to also take a personal contents inventory before the party and immediately contact your insurer if you discover anything is missing.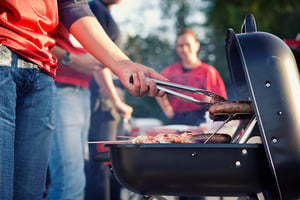 2. Fire Up! But Not Your House
Some people may think grilling isn't very popular on Super Bowl Sunday because of the weather. But surprisingly, football championship night is the most popular grilling day of winter, as 62 percent of owners fire up grills for burgers and steaks. Everyone likes grilled goods, but not when it comes with a house bursting into flames. Before you start stacking up coals and lighter fluid for your party, make sure to check your home insurance's dwelling coverage to seek help with repairs or reconstruction if fire erupts.


3. Refreshments Get Red Flagged?
Super Bowl Sunday is the second-largest food consumption day of the year, following Thanksgiving. Football fans consume eight million pounds of guacamole while watching the game and spend more than $50 million on food during the four days prior to the Super Bowl. But what if the food has turned bad and causes illnesses? Even if it was the grocery store that may have sold expired or poisonous ingredients, you may be responsible for your guests' medical fees if you host the party and serve food. Be sure to follow handling instructions to avoid a claim. Also revisit your standard home insurance policy and see if it includes medical payments coverage.
4. Guests are Injured. Is this 4th Down for You?
Parties can get wild. We get that. Fans can get rowdy and touchdowns are definitely something to celebrate. But mix that level of excitement with alcohol and you have a recipe for accidental injuries. Who is responsible? While you may not be held accountable for every spill or tumble, in some cases, you are likely to be asked to pay for injured guests' hospital fees and more. Check to be sure your homeowners or renters policies are up-to-date. Your standard home insurance policy should include medical payments and/or liability coverage, which can protect you in case of
party-goer injury.
5. Block Partygoers from Driving Up the Field

Alcohol is often a huge component of Super Bowl festivities. In fact, ever year Americans consume 51.7 million cases of beer on Super Bowl Sunday. You need to make sure your guests do not drive after the party if they consumed too much alcohol. It might be a good idea to enlist designated drivers, so everyone gets home safe and sound. But it is also crucial to check your current insurance policies. Many states have enacted laws or have case laws that hold hosts who serve liquor liable for any injuries or deaths resulting from crashes. Liability insurance with your homeowners policy may be able to help you pay for the damages or injuries depending on the case.
6. Is Your Home Safety on the Line When You're Away?
While many people host their own parties or visit their friends' houses for Super Bowl Sunday, some homeowners see the game as an opportunity to make extra cash. Through companies like Airbnb or HomeAway, some decide to rent out their homes for the weekend and let guests enjoy the Super Bowl for a fee. But what if the guests cause damages to your property or get involved in accidents? Check with your insurer to see if your renters policies cover medical and liability coverage while you are away from your property.