This piece is co-written by Tony Cañas, Client Advisor, and Sandy Zupancic, Vice President.
Insurers are facing a challenging recruiting climate, driven by mass Baby Boomer retirements, a low unemployment rate and continued job growth. There are currently about 250,000 open roles in finance and insurance alone, and not enough qualified individuals to fill them. Insurers that have been operating with lean workforces or tackling unforeseen workloads will likely feel the impact of this candidate-driven market at some point: overworked employees, lack of time for long-term projects and inadequate resources to modernize antiquated systems, to name a few.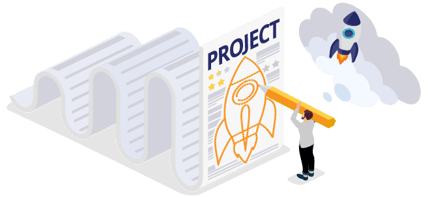 Gig workers are becoming a standard component of many organizations' comprehensive talent plans. According to The Jacobson Group and Aon plc's most recent U.S. Insurance Labor Market Study, 13 percent of insurers plan to increase their use of temporary staff in the next 12 months. Temporary talent is a cost-effective, proven solution that enables many organizations to successfully manage workload influxes.
Whether your company is filling the gaps between full-time hires, tackling special projects or working to manage seasonal workloads, temporary employees may provide the right solution to achieve your goals. Often, the first step in incorporating contract or freelance workers into your talent strategy is aligning department heads or other key stakeholders. If your team is ready for temporary talent, here are a few ways to gain internal support.
Shift the mindset.
Focus on the value and benefits of interim staff.
It's possible you may have to overcome a few common misconceptions to achieve internal buy-in, especially if your company has never used temporary talent. Some may think these employees will be less qualified than permanent employees or not suitable for client-facing tasks due to a lack of immersion in the company culture. However, most gig workers are skilled in their fields and many are working as contractors by choice. Additionally, qualified staffing firms have processes in place to accurately evaluate character and insurance expertise, ensuring they deliver the right interim professionals for your specific need.
Start small.
If your company is hesitant about using temporary talent, suggest beginning on a small scale. This provides a low-risk opportunity to build a relationship with a staffing firm and become familiar with the process and benefits. By starting out on a trial basis or to support a small or short-term project, you'll be able to demonstrate the value and flexibility of a blended workforce.

Build the business case.
Focus on the cost of vacancy.
No matter how amazing your company, at least some employee turnover is inevitable. Research shows the average time to fill a position in the financial services sector is 45.6 days. Harvard shares that an employee's value to a company is typically three times that individual's salary. Based on this information and 230 productive days in a calendar year, the cost of vacancy for a $50,000-a-year role would be nearly $30,000. Interim employees provide a cost-effective way to maintain service levels and productivity to bridge these employment gaps.
Avoid staff burnout during peak workloads.
During times of increased workloads, such an open enrollment, a large new client, systems migrations or natural catastrophes, insurers risk overextending or burning out staff. While some of these needs are sudden, others are seasonal and their timing is somewhat predictable. By building relationships with staffing firms before needs arise, insurers can bring in additional resources while keeping full-time employees engaged and productive.
Access talent from across the country.
Regardless of an organization's geographic location, staffing firms often have connections to talent across the country. Depending on the need and skill levels, these individuals are typically able to work remotely or willing to travel to your location for the project's duration. Agencies with national footprints can provide access to professionals who are skilled in the specific functions your organization requires and can often put you in touch with this talent almost instantly.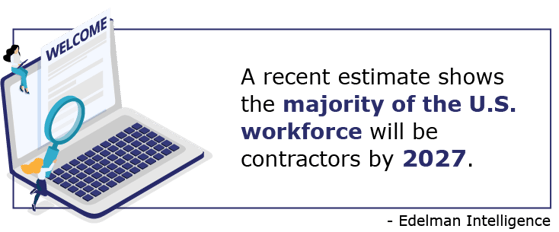 Be proactive in overcoming potential hurdles.
Have an onboarding plan.
As with any type of employment, providing temporary employees with the tools and resources to complete their tasks is an important component of their effectiveness. Create an onboarding plan for their first week on the job. This includes setting clear expectations about the role, as well as establishing open lines of communication. By treating them as an extension of your team, you'll help immerse these employees in the company culture and best set them up for success.
Make the contract process as smooth as possible.
A common challenge when starting out with a staffing agency is the time and number of individuals involved with a contract or master service agreement. Start building relationships with staffing firms before an urgent need arises. While contracts often have a reputation for being drawn-out and tedious, a conference call to align all parties beforehand can lessen some of the back and forth and streamline the process.
If your department is still on the fence about the need for temporary talent, consider the following questions:
Is your staff currently at or overcapacity?
What plans are in place to keep staff productive and engaged if unforeseen projects arise?
Does your organization currently have expected peak workload seasons? How are you ensuring optimal productivity and customer satisfaction?
Are there any initiatives that won't be completed this year due to lack of time or talent?
By overcoming any hesitations within your department or company, sharing the business case and championing your temporary employees' success, you'll be best positioned to gain buy-in and move your conversations into action.