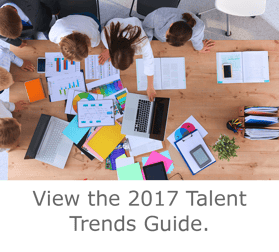 The insurance industry stands amid a rapidly evolving talent market. Organizations are now face-to-face with the rise of virtual training, the push for inclusivity and the growing importance of the employee experience. Is your company prepared?
Here are the eight top insurance industry trends for 2017:
Technology Changes Highlight Need for Non-Traditional Talent: Technology continues to play an increasingly vital role within the insurance industry. As a result, insurers need to refocus their recruitment and engagement efforts to better reach professionals with non-traditional, innovative backgrounds.

Need to Promote Compelling Careers: While organizations have confidence in their internal talent pipelines, studies show that even satisfied employees are looking to move to companies that offer more compelling career opportunities.

Inclusion Remains Important Business Mandate: Insurers need to focus on the inclusion of all facets and faces of today's increasingly diverse demographic talent landscape.

Industry Hiring Challenges Continue to Heat Up: Rapidly increasing hiring demands are far outpacing the current pool of available industry talent. In order to bridge the gap, the insurance industry must work to increase its appeal to the next generation of professionals.

Employee Referrals Top List of Candidate Sources: Internal talent referrals continue to grow in importance as the labor market tightens and organizations seek to expand their staffs.

Employee Training Goes Virtual: Insurers looking to increase retention are focusing on incorporating virtual reality into their current employee training plans.

Refocusing on the Employee Experience: In today's candidate-driven labor market, creating an effective and engaging employee experience is imperative to attracting top talent.

Industry Sees Rise of "Blended" Workforce: The blending of full-time, permanent employees with temporary, contingent professionals has resulted in a need for more inclusive workplaces.
Want to learn more about the top insurance industry trends anticipated in 2017? Download our full trend guide for an inside look.