While the past year has brought on challenges for all industries, insurance has remained relatively stable. Our recent Q1 2021 Insurance Labor Market Study, conducted in partnership with Aon plc, uncovered a hiring environment not drastically different from January 2020.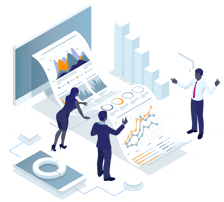 The semi-annual study examines data collected on insurance industry hiring, as well as revenue trends and projections. Now in its 13th year, the Q1 2021 study ran from January 12 through February 5, 2021, and attracted participation from insurance carriers across all sectors of the industry. Highlights from the study's findings are below. View the full report here.
Ninety-one percent of respondents plan to maintain or increase their headcounts in the next 12 months: 56% percent intend to add staff and 35% plan to maintain staff size. Nine percent anticipate a decrease in staff, which is down 8 percentage points from 17% six months ago. Of those expecting to reduce staff, fewer than 3% report the reduction will be by 2% or more. The most common driver for anticipated staffing reductions is reorganization, while areas currently understaffed is the most common reason provided for anticipated increases.


Given modernization initiatives, an increased focus on automation and AI, and the transition to remote and socially-distanced work environments, it's not surprising technology and analytics roles are anticipated to be in the highest demand. The study found a notable increase in the demand for operations roles as well, which is also the function most in need of entry-level employees.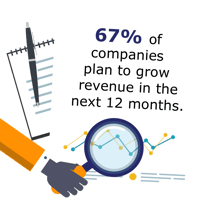 Steady employment growth and the need for experienced staff will continue to propel a challenging recruiting environment. Roles in the majority of insurance functions continue to be difficult to fill and seven of the 11 functions surveyed have seen recruitment difficulty increase in the past year. Analytics roles are the most challenging to fill, followed by actuarial and technology.
In regard to revenue, 67% of companies plan to grow revenue in the next 12 months, up from 58% in July. Less than 3% of insurers anticipate a decrease in revenue. Shifts in revenue are expected to be primarily driven by a change in market share.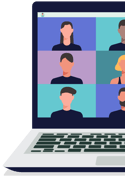 As the pandemic continues, the industry is becoming more comfortable with non-traditional work environments and schedules. Nearly all respondents (95%) indicated shifting expectations around employee schedules and hours when physical offices reopen. Fifty-six percent plan to offer full-time remote work, a slight increase from the July 2020 study. Seventy-seven percent will provide occasional work-from-home opportunities and 47% will offer flexible hours.
For more results and analysis, view the full results summary and listen to the webinar recording. You may also find our recent articles on leading through change and managing in the remote environment to be of value.