By now, most professionals are familiar with the term, "the Great Resignation." As physical offices begin to reopen and the economy continues to rebound, the overall rate of quits in the United States was at a record high in April*. Within insurance, while relatively high, the rate of quits was still slightly below that reported for August 2020 and January 2021. "The Great Reshuffle" seems to be more appropriate for the current reality of the insurance industry.
The insurance industry saw its third consecutive month of job losses in June and the industry's unemployment rate rose by nearly 1 percentage point, to 3.4%. While this seems to indicate the industry is not growing, we're experiencing activity that suggests the opposite. Our team has seen new opportunities double compared to Q4 2020. Additionally, given variations in working arrangements and other employment complexities, combined with lag time in reporting, the BLS numbers may not yet tell the full story.


AT-A-GLANCE NUMBERS


Unemployment for the insurance carriers and related activities sector increased to 3.4% in June.
The insurance carriers and related activities sector lost just

200

jobs in June.
At roughly 2.9 million jobs, industry employment increased by approximately 17,500 jobs compared to June 2020.
The U.S. unemployment rate slightly increased to 5.9% in June and the overall economy added

850,000

jobs.
INDUSTRY HIGHLIGHTS
On a year-to-year basis, May** insurance industry employment saw job increases in title (up 16.9%), agents/brokers (up 2.6%) and life/health (up 0.1%). Meanwhile, job decreases were seen for reinsurance (down 5.7%), claims (down 2.6%), property and casualty (down 1.6%) and TPAs (down 1.5%).

On a year-to-year basis, May** saw weekly wage increases in reinsurance (up 13.3%), agents/brokers (up 2.6%), life/health (up 1.3%) and TPAs (up 1.2%). Meanwhile, wage decreases were seen for claims (down 4.9%), title (down 1.7%) and property and casualty (down 1.6%).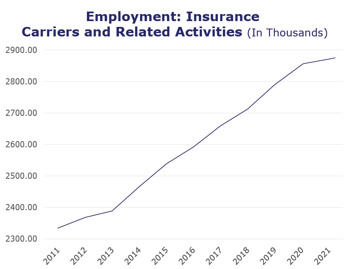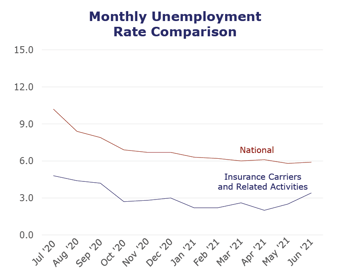 BLS Reported Adjustments: Adjusted employment numbers for May show the industry saw a decrease of 2,800 jobs, compared to the previously reported decrease of 4,800 jobs. The BLS continues to revise numbers to be most accurate, which may contribute to inconsistencies, depending on when reports were pulled.
*April is the most recently available JOLTS information from the BLS.
**The BLS reports on wages and employment for the industry category are only available for two months prior.
The source for the data represented in PULSE is the U.S. Bureau of Labor Statistics. Insurance data is derived from the insurance carriers and related activities sector.