Industry unemployment remains low, and while May saw a decrease in employment compared to April, insurance has gained more than 17,000 new jobs since the start of 2022. Movement persists with both quits and job openings remaining high.

As comfort levels increase, in-person conferences and networking events are picking up pace across all industry sectors, enabling professionals to convene on a large scale. Insurers are also more firmly developing their plans and expectations for moving forward. We're seeing organizations determine their longer-term work environments – whether it's virtual, in person or hybrid. While acknowledging individual employees' preferences and needs continues to be important, many organizations are more clearly defining these parameters. As a result, the industry's reshuffling will likely become more of a realignment, with professionals seeking out the organizations that best meet their desired work styles.
AT-A-GLANCE NUMBERS


Unemployment for the insurance carriers and related activities sector increased to

2.3

% in May.
The insurance carriers and related activities sector lost

6,100

jobs in May.
At roughly 2.8 million jobs, industry employment increased by approximately 31,800 jobs compared to May 2021.
The U.S. unemployment rate stayed at 3.6% in May and the overall economy added

390,000

jobs.
INDUSTRY HIGHLIGHTS
On a year-to-year basis, April* insurance industry employment saw job increases in title (up 3.8%),

agents/brokers (up 3.8%),

claims (up 2%) and TPAs (up 1.6%). Meanwhile, job decreases were seen in

reinsurance (down 2.9%), property and casualty (down 1.2%),

and life/health (down 0.5%)

.

On a year-to-year basis, April* saw weekly wage increases in claims (up 6.3%), property and casualty (up 4.5%), TPAs (up 4.3%), agents/brokers (up 4.1%), life/health (up 3.5%), and title (up 3.4%). Meanwhile, wages decreased in reinsurance (down 1.2%).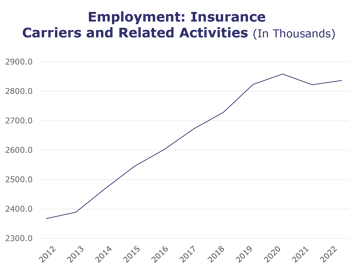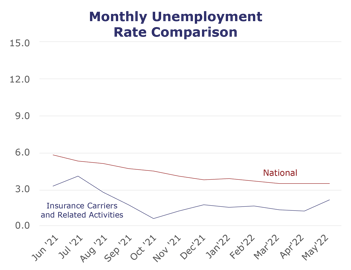 BLS Reported Adjustments: Adjusted employment numbers for April show the industry saw an increase of 21,000 jobs, compared to the previously reported increase of 19,700 jobs. The BLS continues to revise numbers to be most accurate, which may contribute to inconsistencies, depending on when reports were pulled.
*The BLS reports on wages and employment for the industry category are only available for two months prior.
The source for the data represented in PULSE is the U.S. Bureau of Labor Statistics. Insurance data is derived from the insurance carriers and related activities sector.