Most insurance professionals will agree that a diverse, inclusive and equitable workforce is essential; however, progress toward making this goal a reality has been slow. In the past decade, the number of Black individuals working in insurance rose by just 3 percentage points, to 12% in 2020. This lack of diversity is especially apparent within the C-suite and other leadership roles. According to Reuters, only three of 168 senior executives and 13 of 119 board members at the top 10 U.S. insurers and brokers (by market value) are Black. There is still much work to be done; yet many organizations are often unsure of where to begin or how to make a meaningful impact.

Recently, Brett Carter, Managing Director of The Jacobson Group, participated in a panel conversation, "Embedding Racial Equity in the Insurance Industry." Part of the AIRROC webinar series, the session provided insightful discussion and actionable takeaways for insurers to proactively move toward a more equitable and inclusive workforce.
Mr. Carter was joined by Ivy Kusinga, Chief Culture Officer at Chubb, and Dr. Leroy Nunery, Founder of PlūsUltré LLC. Randi Ellias, Partner at Porter Wright Morris & Arthur LLP, moderated the discussion.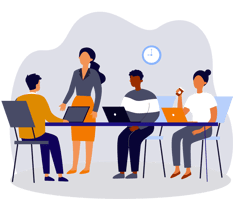 Defining Diversity, Equity and Inclusion
The conversation began by defining diversity, equity and inclusion. The panelists noted that while these are the terms most commonly used today, the conversation has evolved from "emerging markets," "multiculturalism," and "affirmative action." Even more recently, the focus was on just "diversity," then "diversity and inclusion" and now "diversity, equity and inclusion." "Inclusion and equity are terms that talk about fairness," shared Mr. Carter. "It's not that everyone will be getting the same thing as everyone else, regardless of privilege or differences. It's that we're going to provide fairness, based on where you are and how those differences show up in your experience."
"When I look at equity, I think about consideration," added Dr. Nunery. "Do they have that fair chance of exhibiting skills and competence? And, when you bring people in through the door, you see sometimes people are left behind because they don't have the 'code' to get all the way through."
Evaluating the Talent Pipeline
When asked about the factors that may be at play within an organization and impacting individuals' growth and success toward getting that code, Dr. Nunery shared that the C-suite looks a lot like it did in the 1940s and 1950s. "Some people don't have the code. They don't know how to dial in to get up the ladder, or they're not given a code at all, or they're hired in to make sure the picture looks complete with everybody we need to have in ...But that's not real inclusion. And that's not real equity."
"Energy flows towards the path of least resistance," said Ms. Kusinga, as she discussed the insurance talent pipeline and how people of color are represented disproportionately in lower-level roles. Performance is just one factor in career advancement and other variables are at play, such as affiliation and visibility. "Talent is evenly distributed. Opportunities are not," echoed Mr. Carter. "It's not enough to just bring diverse talent into the organization. There needs to be a plan. There needs to be development for that talent, so you can see movement and progression among careers."
Affecting Lasting Change
Throughout the discussion, the panelists shared several actionable techniques and considerations for organizations as they move toward a more diverse, equitable and inclusive workforce.
Prioritize DEI and approach it with the same commitment as other vital business problems. "To solve a problem, you need to understand it," said Mr. Carter, quoting a recent McKinsey study. "To understand it, we have to acknowledge that it exists and that it is really a problem we want to solve. I don't think enough of us within our industry have really honestly embraced and accepted that this is a problem that needs to be addressed and prioritized appropriately within our organizations."
Focus on your organization's hardwiring. Ms. Kusinga pointed out there is unprecedented candor within companies that didn't exist in the past and it's the first time many organizations are addressing race and racism. There's a need for patience, as many organizations may talk about DEI from a performative standpoint; however, it's really the organization's hardwiring that warrants attention. For example, the succession planning process, the talent assessment process, the recruitment funnel and parity in manager work allocations, are areas that will lead to fundamental change.
Take collective responsibility. Simply hiring a chief diversity officer, creating a diversity committee or offering employee resource groups, won't result in a more inclusive and equitable culture. "Diversity, equity and inclusion work cannot be delegated to only chief diversity officers as their sole responsibility. This is fundamentally a leadership duty. This is fundamentally a collective duty," stated Ms. Kusinga. She shared that leaders ought to have a point of view, with chief diversity officers supporting and bolstering what the leader is doing.
Adapt your plan for your unique organization. "There isn't a formula, or a one-size-fits-all, for any of our organizations, because they're all so different," said Mr. Carter. "So you really have to do the work – the hard work – of assessing the needs of your organization, where you are in your DEI journey, and what aspirations you have. How will that translate to different business outcomes for your organization? Then you let that drive the strategy."
"It's fascinating to me that there is this pattern: you could take all the DEI statements for every insurance company you know of, strip out the name, and look at what they say and they're all basically the same," said Dr. Nunery. He continued that people are following a pattern, rather than "being innovative, thinking deeply about what does my company need? And where does it need that support?"
Focus on developing talent. The panelists agreed the emphasis on diversity tends to be heavily focused on the recruiting process. However, once talent comes in the door, "it would behoove your organization to talk about and focus on the development and retention of that talent," said Mr. Carter. "I think there is this untapped talent that is sitting in roles within all our organizations. A lot of us are not reassured by the insurance statistics; but the fact is, we still have some people in the industry. What are we doing to make sure that they get opportunities, that they get to advance?" posed Ms. Kusinga.
Talent development, equitable opportunities and shared responsibility among leadership are all key components for achieving meaningful progress. By treating DEI as a business priority and developing a strategy that meets the specific needs of their organizations, insurers – and all organizations – will be better positioned to make an impact beyond performative measures.