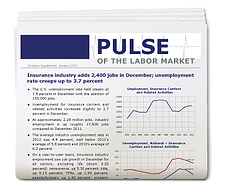 The year's first issue of PULSE of the Labor Market, the monthly supplement to our quarterly newsletter, is out and you can view it here. While the BLS reported an addition of 2,400 jobs in the insurance industry in December, the unemployment rate crept up to 3.7 percent. The average industry unemployment rate in 2012 was 4.4 percent, well below 2011's average of 5.8 percent and 2010's average of 6.2 percent. This downward trend can be expected to continue throughout 2013. Temporary employment for the industry, which is not figured into BLS data, is also expected to be on the upswing this year.
The 2013 labor market promises a strong emphasis on talent as the differentiator in an increasingly competitive market. Employers will strive to attract and retain the brightest and best to tackle the skills gap and embark on growth initiatives.
On a related note, last week marked the beginning of the January '13 iteration of our Semi-Annual Insurance Labor Outlook Study. This data gathered in the study will help us further understand what we can expect to see happening in the labor market, as well as this year's hiring plans for insurers across all sectors. All industry organizations are invited to participate in the survey and receive the results free of charge. You can find more information on the survey here. I am excited to see the outcome of this year's survey and to give my take on the results.
Best wishes for a prosperous 2013!