As we move through the second half of 2021, insurers' employment outlooks remain strong. Our recent Q3 2021 Insurance Labor Outlook Study, conducted in partnership with Aon plc, found 93% of insurers plan to increase or maintain their headcounts in the next 12 months.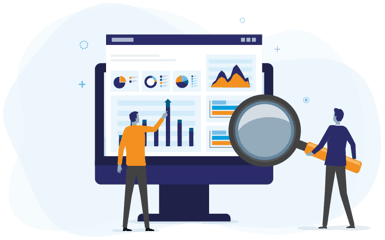 Now in its 25th iteration, the semi-annual study collects and examines data on insurance industry hiring, as well as revenue trends and projections. The Q3 survey took place from July 14 through August 1, 2021, with participation from insurance carriers across all industry sectors. A few highlights from the study's findings are below. Greg Jacobson, co-CEO of The Jacobson Group, and Jeff Rieder, partner at Aon and head of Ward, provide additional insight on the findings and what the industry can expect in the coming months in the latest episode of The Insurance Talent Podcast.
Most businesses are feeling a renewed sense of stability, following nearly 18 months of remote work and pandemic-related challenges. Of the companies surveyed, 56% plan to increase staff and 37% anticipate maintaining their current headcounts in the coming year. The most common reasons for expected increases in staff are understaffed departments and increases in business volume. Technology, claims and operations roles are expected to see the greatest growth.
Just 7% of insurers plan to decrease staff in the next 12 months, which is down 2 percentage points from January 2021 and 10 points from July 2020. Fewer than 3% of companies plan to decrease staff by 4% or more, with reorganization and automation being the primary reasons cited for staffing reductions. It's likely many of these reductions will come in the form of early retirements or not filling positions that become open due to standard attrition.

Yet, while the majority of insurers are planning to hire, the industry is facing a difficult recruiting climate. For the first time in the study's history, all insurance functions were ranked as moderately-difficult to difficult to fill. Technology, analytics and actuarial roles are considered the most difficult, followed closely by executive positions.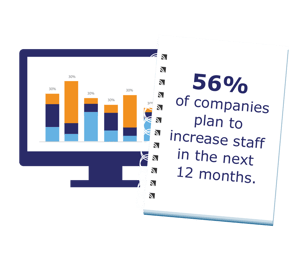 Seventy-eight percent of insurers anticipate revenue growth in the next year, which is 11 points higher than the January 2021 study. Only 1% of insurers expect a decrease in revenue, compared to 7% who anticipate staffing reductions. Given the remote environment and investment in technology, many insurers are seeing productivity increases among current staff, which may account for the lack of correlation.
If the industry follows through on its staffing plans, we will see a 1.81% increase in employment during the next 12 months. Listen to our recent podcast, below or at this link, for additional insights and further discussion. To download the full report or view the results webcast presentation, click here.