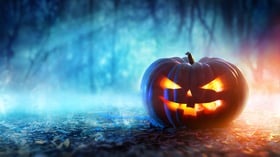 It's that time of year. The days are getting colder, the afternoons are getting darker and soon an assortment of ghouls and goblins will parade down the streets. Beyond the haunts and scares of Halloween, perhaps the spookiest part of the season is the increased vulnerability to insurance claims and lawsuits.
According to the National Retail Federation, nearly 157 million Americans plan to celebrate Halloween this year. The heightened popularity of Halloween brings with it an increased risk of property damage and injury. Whether hosting a party or welcoming trick-or-treaters, opening your property to the public can pose a number of unforeseen hazards.
Broomsticks and Bumpers: Holiday Driving Debacles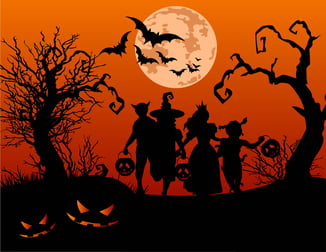 Halloween adds a number of spooky hazards to the open road. In fact, Halloween has the highest average number of claims for any day of the year reported with an average of 1,253 claims—an increase of 81 percent. An analysis by the Highway Loss Data Institute found that personal cars are twice as likely to be vandalized on October 31 compared to an average day. In recent years, the high volume of vandalism claims cost the insurance industry an estimated $2.8 million dollars. Auto owners are encouraged to keep cars parked in the garage and out of harm's way in order to avoid vandalism. However, in the case that your car does get damaged, most comprehensive auto coverage will cover the costs from various forms of vandalism.
Beyond the risk of vandalism, car accidents are a common Halloween occurrence and unfortunately most involve alcohol. According to the National Highway Traffic Safety Administration, nearly 50 percent of all crash fatalities on Halloween involved a drunk driver compared to just 31 percent on an average day. As the streets fill with eager trick-or-treaters, the risk of pedestrian accidents are much higher than on an ordinary day. In fact, more than 25 percent of Halloween car accidents involve pedestrians, compared to 14 percent any other day of the year. Drivers are encouraged to be extra cautious and be aware of their surroundings and the increase of foot traffic on the roads.
Double, Double, Toil and Trouble?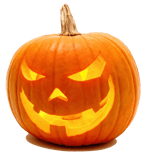 Decorations are an important part in getting into the holiday spirit. While they may play a vital role in setting the mood, decorations can also become an attractive nuisance, or even worse, lead to liability claims under a homeowners' insurance policy. Carved pumpkins may be a popular decoration choice, but using candles to light up your creations is a major fire hazard. The National Fire Protection Association reports that Halloween decorations result in more than 1,000 home fires each year. In order to minimize risk, insurers recommend making it a flameless Halloween by using battery operated candles.
On the Prowl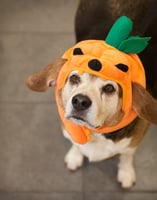 While Halloween is certainly an exciting holiday for goblins, ghouls, ghosts and humans, it can be a very stressful time for dogs. With an influx of visitors dressed in spooky costumes coming and going, even non-aggressive dogs can easily be overtaken by anxiety and provoked to bite guests. In 2013, the Insurance Information Institute reported that more than 30 percent of all liability claims paid out by homeowners' insurance companies were the result of dog bites. Overall, claims totaled almost $479 million with over 16,000 claims and an average of $29,400 paid out per claim. Pet owners are encouraged to keep their pets indoors and away from frequently used entrances.
But don't be afraid! Halloween can still be enjoyed in a fun and safe way. Rest assured that whatever tricks Halloween throws at you this year, any resulting damage will be covered by Halloween friendly homeowners' insurance policies.