The results from our latest Semi-Annual U.S. Insurance Labor Outlook Study are here! Check out the latest insurance industry statistics to learn what hiring and revenue trends you should be on the look for in 2016.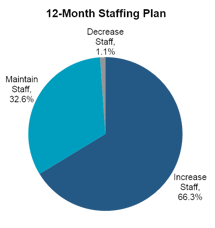 Currently the U.S. Bureau of Labor Statistics (BLS) is reporting insurance unemployment at 3.0 percent in February—with predictions forecasting the rate will hover between one and three percent throughout the year. This is a marked difference from the high of ten percent in October 2009. As the industry "bottoms-out" in terms of unemployment, it is becoming clear that insurance organizations have finally returned to full employment levels.
Despite this staffing rebound, hiring continues to be a key focus across industry organizations. In fact, the rate of expected hiring reached the highest level in the history of the study, with 66.3 percent of organizations reporting that they are planning to grow their staffs. This focus on hiring is being driven primarily by an anticipated increase in business volume followed closely by business expansion.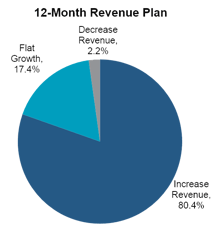 For the second time since 2012, revenue growth expectations hit 80 percent. Despite the slight decrease from the industry high of 87 percent reported in January 2014, revenue growth predictions for 2016 remain positive. In addition, only 2.2 percent of organizations are predicting a decrease in revenue—the lowest percentage since the start of the survey in 2009. Market share changes remain the primary driver of both revenue growth and loss in the coming year.
Despite the return to full employment, the industry faces a record number of job openings as organizations focus on growing their employment numbers. In 2015, the industry saw 251,000 job openings—an increase of more than 130,000 compared to 2009. Unfortunately, this drastic increase in job openings is putting a strain on the already shallow talent pool.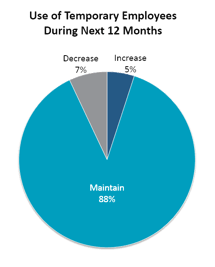 Looking forward, insurers are turning toward alternate staffing strategies to combat the growing talent gap. One key strategy is temporary staffing. Temporary employment continues play a bigger and bigger role in the overall economy. Currently, there are 2,919,100 contract professionals active in the national workforce. In the past six months alone, the number of interim professionals employed nationwide has grown by 43,600.
According to the survey, 88 percent of insurers are planning to maintain their use of temporary professionals—the highest rate in survey history. In addition, 5 percent are planning to expand their temporary staffing usage. With both companies and individuals being drawn to the flexibility provided by temporary staffing, it is anticipated that the number of interim professionals will continue to grow.
With insurance industry talent statistics highlighting a continued focus on staffing growth and a leveling-out of industry unemployment, insurers are finding themselves struggling to fill open industry positions. As organizations feel the growing talent pinch, the demand for alternate staffing solutions will only increase.