As business continues remotely for the foreseeable future, insurers can no longer delay filling critical positions. However, onboarding employees from afar may seem like a daunting task. If you have a new employee joining your team while operating in a virtual environment, it's paramount to have a well-thought-out remote onboarding plan in place. By being intentional about your onboarding and orientation process, you'll be able to successfully welcome new employees to your organization and set them up to thrive.
Have a clear strategy.
It's important to rethink your typical onboarding approach to fit today's virtual environment. Structure is more critical than ever and helps assure employees you've put time and effort into making their first few weeks a success. Develop a tailored onboarding schedule, keeping in mind new employees may require additional details and information as a result of not physically being in the office. If you typically take new hires out to lunch on their first day, walk them around the office, and schedule a variety of training and orientation sessions, how can those activities translate to the remote workplace?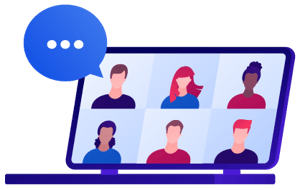 Proactively make introductions.
Working from home can be isolating, especially in a new position. Consider how you can make a new hire feel included and valued from day one. Depending on your company size, this could include an all-company email or instant message introducing the individual and encouraging employees to reach out and say hello. Make sure to designate time for the new hire to meet other team members, outside of formal training sessions. This could be a virtual happy hour or lunch that enables individuals to talk on a more casual basis and begin to get acquainted with one another. Strive to do this within the employee's first week to help lay the groundwork for these relationships early on. Additionally, while much of the onboarding and training process could likely be done over the phone, encourage individuals to schedule video calls. Putting a face with a name and having the advantage of facial cues is much more engaging than speaking by phone alone.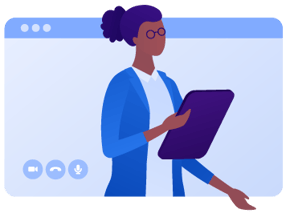 Ensure adequate technology.
Introduce new hires to your IT team prior to their first day of work and discuss technology needs. Help ensure they're able to work efficiently during their first week and alleviate undue stress by delivering physical items prior to their start date. This may include a computer, headset, camera for video conferencing and any other tools deemed necessary. At the same time, provide new employees with a direct line to IT so they can quickly rectify any tech issues that may arise.
Outside of equipment, it's likely your team uses various programs and tools to stay aligned and productive. Consider the applications you use for time tracking, project management, instant messaging, video conferencing, contact management and more. Depending on the employee's comfort level, it may be valuable to schedule training around a program's basic functionality. However, even if the employee is familiar with a program, make sure to hold a team-specific training session when applicable. This helps the individual understand your team's unique processes and provides another way to incorporate various team members into the onboarding process.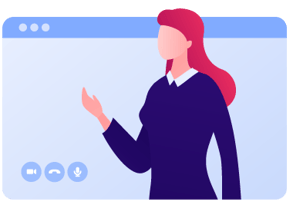 Highlight your company culture.
Help your new hire feel comfortable and confident in a new role, while also welcoming them with open arms. Share your company's values, as well as how those are being outwardly demonstrated. Is there an all-company Skype chat? How is formal and informal information shared? Are there any virtual meetups or competitions where they can engage with colleagues across the organization? In addition to the organization's remote corporate culture, also share past events and anecdotes. What are some favorite in-office traditions and how can they contribute once employees start returning to the office?

Encourage them to update their information.
Starting a new job virtually feels different than stepping into a physical office building for a first day. Help the transition feel more tangible by encouraging new employees to update their social media profiles within the first couple weeks. Recommend they connect with individuals throughout the organization to get to know them and their backgrounds. Title and company changes on LinkedIn will likely also garner recognition and congratulatory remarks from individuals within their networks, adding to the excitement of a new role.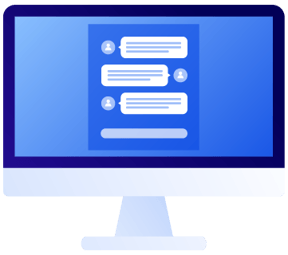 Touch base frequently.
Make it a point to check in and see how things are going. This might be a few times throughout the day when an individual first starts, then become less frequent as they settle into the role. Ask if they have any outstanding questions, if there are any meetings or introductions you can help facilitate, and how they feel about their current workload. Stay in touch and make sure they have a key point of contact for questions that may arise in various areas.

Think long-term.
For some, it's harder to retain information through virtual training; and, regardless of the format, new hires are receiving a vast amount of information at once. Consider adding another layer to your traditional training sessions such as a Q&A or refresher course to help ensure they've grasped key information. Also, remember that offices will eventually be open again. If an individual will ultimately be in the office full- or even part-time, make sure you are talking about the office on a regular basis. The current work from home environment is likely not permanent, and they will eventually develop a more traditional routine.
While onboarding may look different than it did just a few months ago, it is still possible to create a positive, employee-focused experience. By developing a clear onboarding plan, being proactive with introducing the employee to your team and company, and being available through chat and video, you'll help create a welcoming and supportive environment. As you move forward with your talent strategy, view our recent blog posts for insight on interviewing and hiring virtually.