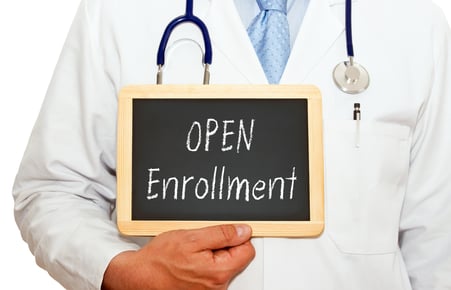 The 2018 healthcare open enrollment period is on the horizon. Unlike previous years, this year's enrollment season will last only 45 days—spanning from November 1 through December 15, 2017. This shortened period is concerning for healthcare providers who continue to face an increased demand and influx of new customers during open enrollment.
In addition, recent years have seen the advent of public health insurance exchanges under the Affordable Care Act and the growth of private health insurance exchange use by employers. This movement towards a business-to-consumer distribution approach is placing individuals in the deciding role in terms of open enrollment health plan selection.
Faced with a shortened enrollment period and the movement towards a consumer-oriented health plan selection, how can healthcare providers ensure they are effectively and efficiently interacting with and engaging their customers?
Fortunately, we stand amid an age of rapid technological evolution. Widespread advancements continue to revolutionize the way organizations do business and provide a unique solution to emerging open enrollment challenges. In today's highly-connected world, individuals have become accustomed to accessing information anytime, anywhere and on any device. Healthcare providers need to embrace technology-driven lines of communication in order to more successfully interact with their customers.
In preparation for the 2018 open enrollment period, health organizations are looking for solutions to assist in their customer interactions. Incorporating emerging technologies may be the key:
Provide different channels for health plan purchasing: Evolving customer demands have led contact centers to support an average of nine channels—including social media, chat bots and live-agent phone discussions. In light of these changing needs, insurers need to integrate cross-channel customer engagement into their open enrollment plans. Organizations may want to consider adding in-person kiosks, easy-to-navigate websites and self-service phone menus.
Develop personalized, multi-channel outreach: In order to appeal to a wide variety of consumers, health providers are introducing more personalized outreach. Understanding how your customers want to be engaged is critical. Some people favor traditional methods including postcards and phone calls. Others expect web-based and digital content that can be consumed on-the-go—including emails and social media notifications. Understanding the preferred method of communication is key to effective outreach. Make sure your organization is covering its bases with social media updates, text messages, electronic notifications, emails, and "snail mail" announcements and reminders.
Implement digital tools: From text message checkups, remote care monitoring and wearable technology, digital advancements are impacting how consumers and healthcare providers and plans interact. Within the open enrollment period, insurers are looking at digital and mobile to increase engagement. This includes mobile apps that allow individuals to shop plans and upload documents, calculators that help consumers estimate plan costs and digital postcards that provide enrollment overviews and links to educational videos. These unique solutions are enabling healthcare providers to better engage with their customers.
Embrace the customer experience: According to a recent survey, health insurers rank as the least customer-centric of all insurance providers—falling below the maligned airline industry. With this in mind, insurers must focus on transforming the customer experience as they move towards the upcoming open enrollment period. Some insurers are taking note from companies like Uber. They are connecting customers needing assistance with service agents and brokers who are able to provide support. Others are encouraging customers who are placed on hold to provide their contact information in order for a representative to call them rather than have to wait on the line.
Regardless of the method, technology is playing an increasingly important role in ensuring success during open enrollment. Is your organization embracing the potential of technological advancements? What solutions is your company implementing in preparation for the 2018 open enrollment period?