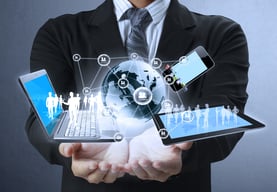 For years, the insurance industry has stood as a virtual island amid a sea of growing technological changes. While innovations and advancements transformed industries from banking, commerce, travel and more, insurers maintained business as usual.
But the industry can no longer silo itself against transformation. In fact, more than 80 percent of CEOs identify technological advancements as the top trend expected to transform the industry in the coming years. Today's organizations are increasingly embracing the opportunities brought by technological advancements—driven by rising innovations, emerging disrupters and evolving business needs.
What are the key advancements that are impacting the industry? Here are the top five technologies that are changing the way insurers do business.
Mobile: While mobile technology has been around for years, the growing prevalence of mobile devices has revolutionized how individuals obtain and consume information. Smartphones are currently the fastest selling devices in history, anticipated to reach a global penetration rate of 75 percent by 2020. Consumers now expect to be able to access websites, perform transactions and more on their mobile devices. Insurers are taking note and utilizing mobile to assess and deliver on changing customer expectations. This includes the development of mobile websites and applications and the use of push notifications and other personalized communication. Others are utilizing mobile to capture data in order to provide more customized products and services to customers. It is clear that the advancements of mobile technology are becoming increasingly important in the company-consumer relationship.
Artificial Intelligence (AI): The rise of AI is set to fundamentally change the way insurance organizations operate. The volume of data insurers need to gather, manage and analyze has grown exponentially thanks to the advent of sensors, wearables and more. Organizations now have more information about the lives and assets they insure than ever before. Managing this unprecedented amount of data requires tools and processes that embed real-time data analytics into the business process. Unfortunately, sifting through the mass of data to make decisions is beyond the capabilities of today's human workforce. This is where AI comes in—bridging the gap and maximizing the strengths of technology and the workforce. By utilizing AI to do the data "heavy lifting," organizations are able to free up their workforce to focus on the knowledge tasks and customer care that are critical to operations. This blending of automation and employees is transforming every area of the industry and enabling the shift toward more personalized and real-time coverage.
Internet of Things (IoT): A network of devices that collect, monitor and share data through the internet, the IoT has expanded to include automobiles, health monitoring, transportation infrastructure, home monitoring and more. Already making waves in the business world, the growth of IoT is expected to skyrocket in the coming years—increasing from 4 billion connected devices in 2016 to 20.8 billion in 2020. The rise of sensors and other devices are allowing insurers to better monitor individuals, entities, behaviors, events and objects. This data is then being applied to new analytical, statistical and computational models. This real-time data is enabling insurance organizations to make more informed decisions on risk and provide policies accordingly.
Analytics/Big Data: The rapid increase in the amount of data being consumed by insurance organizations has resulted in a push toward improved analytics. Much like AI, today's analytic technologies are designed to work together with the workforce. These technologies are enabling insurers to leverage what computers do best, while opening up employees to analyze and report on gathered data. This rapid transition of data to insights is helping to drive better business decisions and actions that generate results. This includes improved risk management, advanced reporting, increased customer intelligence and enhanced insights into performance and processes.
Predictive Modeling: Focused on creating a statistical model of future behavior, predictive modeling is concerned with forecasting probabilities and trends. It relies on capturing relationships between explanatory variables and the predicted variables from past occurrences and then using that data to predict future outcomes and behavior. These insights are critical to avoiding risks, understanding future customer behavior, projecting losses and improving profitability. Already, the implementation of predictive modeling within insurance has proven to be an industry game-changer—improving internal processes, optimizing resources and enabling companies to surpass their competitors. In fact, nearly half of insurers believe that predictive modeling is essential for risk selection and rating. Looking forward, its implementation is expected to grow by 33 percent in the next few years. Moreover, predictive modeling is expanding throughout insurance functions, including fraud identification, loss control, and even sales and marketing.
It is clear that new technologies are opening up a world of possibilities for the insurance industry. Looking to the future, innovations and advancements will continue to impact the business world. In today's rapidly changing world, insurers must continue to evolve.