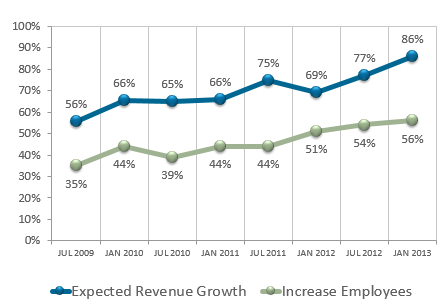 The Jacobson Group and Ward Group have completed another iteration of the Semi-Annual Insurance Labor Market Study and the results offer a telling picture of our industry's current landscape. Eighty-six percent of companies polled expect to grow revenue in the next 12 months. Likewise, 56 percent of respondents intend to increase staff. Both of these figures are at the highest levels reported since the study's inception in 2009.
The primary reason to grow staff during the next 12 months continues to be an increase in business volume, with 47 percent of companies listing this as a reason to hire. Coming in second, with 46 percent of respondents, is expansion. It seems there are some exciting developments coming down the pipeline at many organizations!
This return to hiring, along with a steadily decreasing unemployment rate, do promise a difficult recruiting climate. All functional disciplines were rated by respondents of the study as "moderately difficult to fill." As demand increases, the difficulty-to-fill measure is expected to continue its incline. While insurers will continue to be faced with recruiting challenges ahead, the outlook is mostly positive for our industry.
I invite you to view the full results summary for a closer look at these projections. If you missed the webinar, you can view the webcast here. Please don't hesitate to contact me if you would like more information about the study.