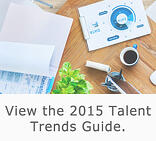 A number of trending talent issues are sure to impact the insurance industry in 2015. From the growing focus on building a personalized talent brand to the rise in demand for tech talent, the industry is being shaped by a number of emerging trends. Here are seven trends we expect to influence the insurance industry in 2015.
Emerging Talent: As the industry faces a growing talent crisis, organizations are turning to young professionals and recent graduates to fill the gap.
Talent Branding: In today's competitive recruitment climate, building an attractive, positive brand is key to success.
Tech Talent: The demand for analytics and big data talent is causing insurers to rethink their hiring plans in order to better attract tech talent.

Increased Industry Turnover: Companies must revisit their employee engagement strategies to combat the growing number of voluntary separations.

Growth of Non-Traditional Employment: The rise in temporary employees is creating a unique solution to employers search for cost-efficient term staffing.
Technology Impacting Required Job Skills: The growing focus on technology is creating a demand for a new skillset among today's job candidates.
Climate Risk: Increased demand for claims and underwriting professionals is causing insurance organizations to rethink their current disaster or natural event staffing strategies.
Want to learn more about the top talent trends for 2015? Download our full guide for an inside look.