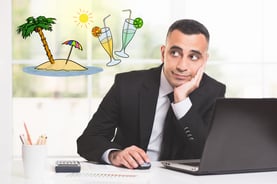 School's out for summer! As summer vacation kicks into high gear, children around the nation are celebrating three long months of swimming, biking and playing. Unfortunately for adults, the daily office schedule doesn't change as the temperature rises.
In fact, the lazy days of summer have shown to have a significant impact on employee motivation and performance—20 percent of organizations report a drop in productivity.
The summer slump is a real and pressing business concern, but how can today's organizations combat this decreased workplace productivity? Here are eight easy-to-implement tips to keep your employees happy and engaged during the long summer season.
Introduce relaxed dress codes: As the temperature rises, are your employees left trudging the steamy sidewalks in a full business suit? While businesses want to maintain a professional appearance, summer provides an opportunity to loosen up your dress code.

Nearly

three-quarters

of employees claim to be less productive when they are overly warm or uncomfortable in the office.

As long as employees don't have important client meetings scheduled or aren't in customer-facing roles, allowing them to dress in cooler, more relaxed clothing can go a long way. In fact, studies have shown that employees who are allowed to dress more informally at the office are less distracted, more comfortable and have increased morale.
Provide a change of scenery: Take advantage of the beautiful weather outside of the office and soak up some sun while improving employee energy. Outdoor meetings have been proven to increase communication, heighten relaxation and improve overall mood. Thanks to modern technology, it's easy to stay connected and productive outside the office.
Embrace flexible schedules: Kids are home from school, vacations are on the books and family events are filling up the calendar. Summer can be an extremely challenging time for employees to find work-life balance. With flexible schedules considered the most influential workplace perk, allowing your workers to develop a flex-time schedule can go a long way toward increasing morale and avoiding burnout. The scheduling can come in a variety of forms, including four 10-hour days, early dismissal Fridays or work-at-home options.
Celebrate happy hour: Despite the usual connotation, "happy hour" doesn't need to be limited to after-hour drinks. Consider introducing a morning coffee break or an afternoon activity. Either way, giving employees permission to take a break can help them de-stress during the day. In addition, it provides employees with something to look forward to and brings a little bit of excitement to the workday. At Jacobson, we encourage employees to participate in organized "shake-it-out" events that span from coloring and crafting to charades and games.
Engage in volunteer activities: As the weather heats up, the options for outdoor volunteer activities are endless. Neighborhood clean-ups, summer camps and restoration projects are great opportunities to get your employees out of the office and engaged with the local community. With corporate citizenship shown to increase employee engagement, volunteer opportunities can go a long way in re-energizing your staff.
Plan a company outing: Whether it's as simple as a potluck barbeque or an afternoon at a local rooftop restaurant, planning a company-wide summer outing is a great way to bring employees together, create a positive work environment and grow peer relationships. Having a fun activity to look forward to can be a great motivator and has actually been shown to increase workplace morale. For years, Jacobson has offered fun and creative summer activities including a lake cruise and an afternoon at the ballpark.
Encourage vacation time: Workers in the U.S. use only 51 percent of their paid vacation time. Too often, employees feel they have to work or are uncomfortable asking for time off. Unfortunately, organizations aren't doing enough to encourage their employees to take a break. Despite concerns over coverage or ongoing projects, nearly 40 percent of workers feel more productive upon returning from vacation. It's important for organizational leaders to encourage their workers to take vacations to recharge. Summer is the perfect time to remind your employees to get away and unplug.
Bring on the summer interns: An intern can be critical to alleviating stress during the summer months—providing extra support on projects, filling in during vacation time and offering fresh ideas. Make sure to train your intern to provide support across key areas of your department. This ensures they are best able to assist in the completion of high-priority projects and responsibilities.
The summer slump doesn't have to be your organization's reality. Make sure to implement employee engagement activities to re-energize and re-focus your workforce despite the rising temperatures.