The results from our latest Semi-Annual Insurance Industry Labor Market Study are in! Since the first survey in 2009, this study has become an accurate predictor of the industry's staffing outlook. Read on to gain insight into the projected talent market for this year or download the full results.
Slowed Revenue Growth Projections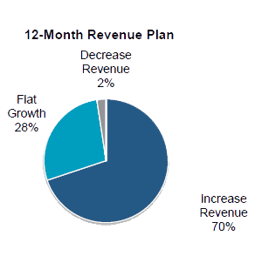 Both property and casualty and life/health companies expect revenue growth in 2017—with 70 percent of insurance companies surveyed expecting to increase revenue. The anticipated growth is primarily being driven by changes in market share. This increasing market share will likely stem from organic growth in organizations' current footprints, as well as expansion into new states. While these projections are certainly well above the lows that followed the Great Recession, this is the lowest growth expectation since our January 2012 survey. Despite decreased growth forecasts, only two percent of companies are actually anticipating a decline in revenue.
Historically, the insurance industry has seen a significant gap between the growth rates in revenue and in staffing—with revenue far outpacing staffing projections. However, while the number of insurers expecting increased revenue has slowed, plans to increase staffing over the next year have remained steady. This continued focus on growing staff has greatly reduced the revenue-staffing gap, bringing them within five points of each other.
Continued Staffing Growth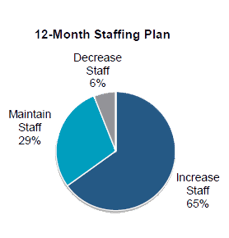 If the insurance industry follows through on current plans, we will see a 1.56 percent increase in industry employment this year. This projected growth will help to create new jobs within insurance. According to the survey, 65 percent of companies intend to increase staff in 2017—driven by near-record-high numbers of personal and commercial lines property and casualty organizations.
Of companies who plan to add staff, 82 percent expect an increase in revenue, with 53 percent responding that this will be caused by a change in market share. Small companies (fewer than 300 employees) report the highest expectations for growth in staff, as more than 77 percent expect to hire new employees. In contrast, large companies (more than 1,000 employees) project the greatest decrease in staff, with 12 percent anticipating a reduction in force.
Additionally, the U.S. Bureau of Labor Statistics reports that the number of job openings in finance and insurance continues to rise. The current 262,000 job openings is the highest number since the inception of our study in 2009. This continued upward trend indicates that openings are taking longer to fill now than in the past—a growing concern that insurance organizations are working to address.
Labor Market Challenges
The insurance industry remains focused on combatting the growing talent gap and increasing demands for staff. Virtually non-existent industry unemployment—currently 3.3 percent—has resulted in a shallow talent pool, accentuating the challenging recruiting environment. Actuarial, analytics and technology roles remain the most difficult-to-fill positions.
As a result of the tight labor market, many companies are turning to contract professionals to fill challenging positions. Some of the waning in job growth over the next several years may, in fact, be a result of organizations turning to temporary talent as part of their staffing strategies.
Filling Gaps with Temporary Staff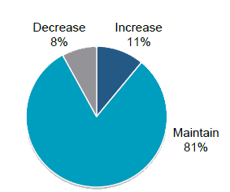 Since 2009, the use of temporary staff has been on a rapid growth trend. Already, interim employment is up by more than 70,000 jobs since July 2016. During the next six months, 81 percent of companies expect to maintain their current number of temporary employees. Meanwhile, 11 percent anticipate an increase—the highest expected increase in temporary staff usage since January 2014. Clearly, temporary and interim talent are set to have an immense impact on the future of the insurance industry. The impending management challenge will be in effectively integrating rising numbers of contract workers into a workplace previously dominated by full-time, permanent employees.
Though the insurance industry continues to enjoy growth; continued staffing demands amid today's shallowing hiring pool are accelerating the need for new talent solutions. For further insights into the industry's 2017 labor outlook, download the full results of the study.