The insurance industry saw the unemployment rate fall to just 2% in April, its lowest since March 2020 and comparable to 2019's pre-pandemic numbers. The Bureau of Labor Statistics also reported a loss of 7,000 insurance jobs; however, it's likely these numbers will be revised in subsequent months' reports. The overall U.S. economy saw unemployment remain relatively flat and added 266,000 jobs; unfortunately, this is far from the 1 million job increase many economists were anticipating.
Conversely, we're feeling an uptick of activity in the industry, as insurers focus on their next steps, move forward with new technology and automation, and begin to orchestrate returning to the office. At the same time, there's a renewed emphasis on effectively managing hybrid teams in a way that respects alternate work schedules and accommodates individual comfort levels and needs.
AT-A-GLANCE NUMBERS


Unemployment for the insurance carriers and related activities sector decreased to 2% in April.
The insurance carriers and related activities sector lost

7,000

jobs in April.
At roughly 2.9 million jobs, industry employment increased by approximately 21,900 jobs compared to April 2020.
The U.S. unemployment rate increased to 6.1% in April and added

266,000

jobs.
INDUSTRY HIGHLIGHTS
On a year-to-year basis, March* insurance industry employment saw job increases in title (up 8.8%), claims (up 3.3%), agents/brokers (up 1.8%) and life/health (up 1.5%). Meanwhile, job decreases were seen for reinsurance (down 4%) and TPAs (down 3.6%). Property and casualty did not change.

On a year-to-year basis, March* saw weekly wage increases in reinsurance (up 15.3%), property and casualty (up 6.7%), agents/brokers (up 5.5%) and life/health (up 5%). Meanwhile, wage decreases were seen for claims (down 1.6%), TPAs (down 0.8%) and title (down 0.7%).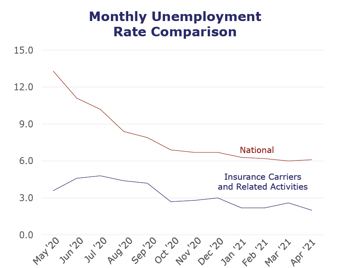 BLS Reported Adjustments: Adjusted employment numbers for March show the industry saw an increase of 9,600 jobs, compared to the previously reported increase of 11,200 jobs. The BLS continues to revise numbers to be most accurate, which may contribute to inconsistencies, depending on when reports were pulled.
*The BLS reports on wages and employment for the industry category are only available for two months prior.
The source for the data represented in PULSE is the U.S. Bureau of Labor Statistics. Insurance data is derived from the insurance carriers and related activities sector.