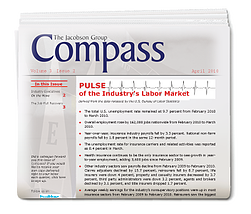 I penned the article in this quarter's Compass, our executive newsletter, detailing my thoughts on the labor market recovery and expanding on some of the ideas you have read about in this blog. The response to this article has been terrific – and we really appreciate the feedback – and included a thought-provoking question that happened to be asked by a few different people. I'll paraphrase: Does the rise in temporary employment really suggest general job growth or is this a reflection of a new paradigm in the labor market whereby organizations shift their labor mix toward temporary staff?
This is an intriguing hypothesis and one that I have heard about before. A quick Google search yielded this result, and I have read and heard about similar studies. Even the SIA has recently predicted higher temporary penetration rates than ever before in the future. That said, I remain skeptical that we are seeing the beginning of a new paradigm and that the growth in temporary jobs since September portends anything markedly different than what it has meant in the past: coming job growth.
The nature of a dynamic economy is to reward specialization and efficiency. It is accepted fact that both of those traits require workers who know and understand the niches or micro-niches they serve very well, but I further postulate that organizational knowledge is equally important for most day-to-day business. While I believe strongly in the value that can be provided by temporary expertise at all levels – for the very same reasons of specialization and efficiency – much of the knowledge required by organizations for day-to-day business is organization-specific; thus it is hard for me to envision a wholesale change in the current balance between temporary and more traditional employment.
As I pointed out in the Compass article, the numbers seem to be just now starting to affirm the job growth story. This morning we had one more piece of confirmation – the NABE (National Association of Business Economists) released their April Industry Survey, which highlighted expected job growth. Within The Jacobson Group, we continue to see demand for both temporary and traditional staff at much higher levels than 2009.
What are you seeing?