It is my pleasure to introduce a guest blogger for this latest post. My brother and co-chief executive officer Greg is head of The Jacobson Group's executive search team. His insights into evaluating executive candidates are worth a read. Enjoy…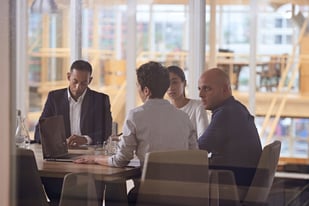 Perhaps it's a Chief Executive Officer retiring after nearly 30 years of service. Or maybe it's a newly created Chief Innovation Officer position. Regardless of the circumstances, filling executive openings is critical to ensuring the continued success of an organization.
But organizations shouldn't rush into an executive hire. Poor hiring decisions can have startling ramifications on an organization's productivity and, ultimately, its bottom line. With 69 percent of companies reporting bad hiring decisions, it is clear this is an important issue.
When it comes to executive candidates, making the right hiring decisions is critical. The key is to take a multi-pronged approach, using a myriad of strategies and tools to create a data set from which to assess candidates. It is a blend of art and science.
How can organizations ensure they are effectively evaluating their potential executives? The answer to this question is increasingly critical in today's rapidly evolving business environment. In order to compile a list of strategies and best practices, I'm sharing my team's most valuable insights:
Incorporate behavioral interviewing: Behavioral interviewing is a good way to get to the core when evaluating a candidate. Organizations should utilize situational questions to probe for real-life examples and stories of how candidates handle challenges and unexpected events. Focus on open-ended queries such as, "describe the biggest challenge you've had in your career and how you navigated it." Present executives with questions that prompt them to share how they think about various situations. The way they respond to these questions will help you determine how they handle decisions, prepare strategies and execute practices.
Utilize psychometric testing: Testing can add value to the interview and selection process. Psychometric tests, in particular, leverage proven psychological theory and scientific research to identify and evaluate candidates' behaviors and thought models. Successful testing and assessments focus on unique client position requirements to provide an in-depth look at how the individual measures up to the critical behaviors required in the executive role. Testing can be an excellent, unbiased tool to gain the insights needed to select a candidate with confidence.
Assign "homework": Once you have narrowed down your list of finalists, consider providing a "homework assignment" for candidates. Incorporate portfolio reviews, case studies or work sample tests in order to gain real-time insights into how they would execute and perform the work required in a given role. Writing samples and presentations allow organizations to determine how candidates respond to assignments and how well they present to audiences. Your candidates are busy individuals, so make sure to give them adequate notice and reasonable timelines.
Seek out multiple perspectives: Use a holistic team interview. Including a multitude of potential colleagues will help you gain insights into how the candidate works across and with others. This format also provides different perspectives of the candidate and lets you see how they interact with different personalities.
Move to a less formal locale: Incorporate an informal stage that allows you to shift the interview process away from the formal environment and enables you to interact in a more relaxed setting. This can be a lunch or dinner interview or even coffee. The change in environment will allow you to see how they engage with those around them. Observe the candidate, as well as how the people they interact with respond to them.
­
Evaluating and selecting executives is a critical task. Making a poor hire at the executive level can drastically impact the organization's morale, productivity and, ultimately, its bottom line. In order to effectively evaluate potential executive candidates, companies need to embrace a multi-pronged strategy that enables them to gain insights into these individuals on many levels.