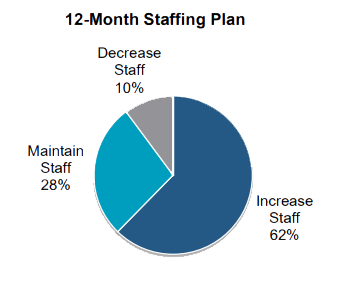 The results from our latest Insurance Industry Labor Market Study are now available! Since its debut in 2009, this bi-annual study has become an accurate predictor of the industry's staffing outlook. Read on for highlights from the most recent study or download the full results.
Increased Revenue Projections Accelerate
With 81 percent of insurers surveyed projecting growth, expectations to increase revenue are now 11 points higher than they were in January. This is the first time since July 2012 that expectations for revenue growth have increased between the January and July survey periods. Large and mid-sized companies reported the greatest optimism for revenue growth, at 84 percent and 85 percent, respectively.