As catastrophe season continues, insurers are responding to recent devastating events while also preparing for what the next few months may bring. The year has already seen hurricanes, earthquakes and wildfires, meaning the ability to adapt to increased workloads has become a vital part of insurers' claims management strategies.

Hybrid workforces – which are comprised of remote and in-office workers, as well as part-time and full-time staff, temporary teams, consultants, and more – have become common practice in light of the pandemic. Now, the flexibility of these blended teams enables insurers to rise up to CAT season's challenges and most effectively service members in their times of need.

In a recent Insurance Journal article, Brittni Smith, client advisor at The Jacobson Group, shared how property and casualty insurers can best leverage hybrid teams as they tackle CAT season's increased workloads. Her piece, "Be Ready to Take on New Challenges By Building Hybrid Teams," highlights best practices for success. Below are a few of her insights.



Strategic Planning
While it is difficult to predict specific future events, it's possible to be prepared for a variety of scenarios. Discuss these possibilities and their corresponding action plans with your internal team early on, enabling you to address questions and identify potential challenges. Do you have a staffing partner in place that can quickly deliver skilled talent? Are any current employees able to cross-train or work extra hours to fill gaps? Consider available tools and options and develop action plans that can be quickly mobilized.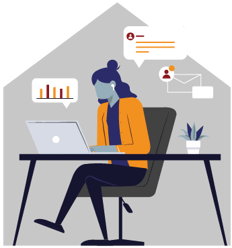 Clear Communication
Transparent communication and well-defined expectations are key, especially when working in a hybrid environment. Start creating a sense of shared purpose among your team from day one by outlining organizational values and goals in your onboarding process. Even temporary team members will benefit from visibility into their role's impact on the larger department and organization. At the same time, encourage your team to maintain open lines of communication with their managers and teammates to quickly solve problems and work together most effectively.

Intentional Meetings
Hybrid teams often comprise multiple time zones, different work schedules and varying employment arrangements. Be thoughtful when planning meetings or other events and try to accommodate team members' schedules to the best of your ability. Cultivate opportunities to openly communicate with teammates through weekly or bi-weekly team meetings. This provides a platform for employees to share wins and lessons learned, build relationships, innovate, and gain a deeper sense of camaraderie.

To prepare for what CAT season may bring, insurers must adapt and evolve to the shifting landscape and cultivate flexible teams ready to take on any challenge. For more on effectively adopting a hybrid working model, read the full article here and check out this piece on questions to ask as you craft your CAT season talent strategy. For additional insight on virtually managing your workforce, view "Virtual Management that Transcends the Generations."