While employment for insurance carriers and related activities has been on the rise for the past six months, revised BLS numbers* show average employment for 2021 was roughly 2.8 million, about 57,000 fewer jobs than originally reported. However, the tight labor market persists, and industry hiring is not keeping pace with its number of quits. This is evidenced by lower annual industry averages for both unemployment and jobs in 2021, compared to 2020.
At the same time, wage increases were extremely high year-over-year. Overall, industry wages increased by 7% from December 2020 to December 2021. Life/health experienced a 6.5% increase and property/casualty experienced an 8.7% increase in that timeframe. As salaries rise and the war for talent continues, insurers must focus on ways to expand both their total rewards packages and their talent pools. To learn more about the industry's hiring outlook, join us February 10 for a complimentary webinar analyzing the results of our Q1 2022 Insurance Labor Market Study.


AT-A-GLANCE NUMBERS


Unemployment for the insurance carriers and related activities sector decreased to 1.7% in January.
The insurance carriers and related activities sector gained

4,800

jobs in January.
At roughly 2.8 million jobs, industry employment decreased by approximately 2,200 jobs compared to January 2021.
The U.S. unemployment rate increased to 4% in January and the overall economy added

467,000

jobs.
INDUSTRY HIGHLIGHTS
On a year-to-year basis, December** insurance industry employment saw job increases in claims (up 16.1%), title (up 7.5%), agents/brokers (up 4.9%) and TPAs (up 1.4%). Meanwhile, job decreases were seen for life/health (down 4.6%), property and casualty (down 5.5%) and reinsurance (down 7.1%).

On a year-to-year basis, December** saw weekly wage increases in reinsurance (up 24.8%), TPAs (up 9%), property and casualty (up 8.7%), agents/brokers (up 6.6%), life/health (up 6.5%) claims (up 4.4%), and title (up 3.8%).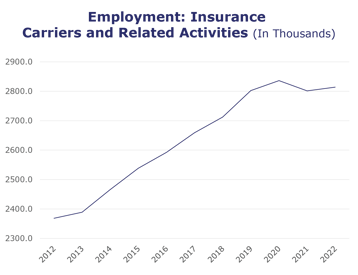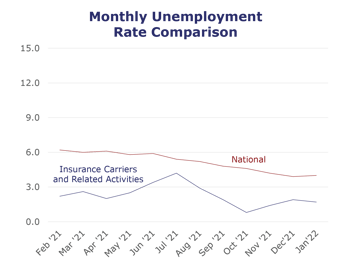 BLS Reported Adjustments: Adjusted employment numbers for December show the industry saw an increase of 4,500 jobs, compared to the previously reported increase of 3,100 jobs. The BLS continues to revise numbers to be most accurate, which may contribute to inconsistencies, depending on when reports were pulled.
*The BLS made its annual revisions on February 4, adjusting employment numbers for the past five years.*
**The BLS reports on wages and employment for the industry category are only available for two months prior.
The source for the data represented in PULSE is the U.S. Bureau of Labor Statistics. Insurance data is derived from the insurance carriers and related activities sector.