Written by Joanne Turner, Assistant Vice President, and Blake Grimm, Client Development Manager
The future of healthcare is upon us and it's offering a chance for payers to lead the industry through innovation and expansion. Global healthcare spending is projected to reach $8.7 trillion by 2020. Organizations are continuously finding smarter and more innovative ways to deliver efficient and effective patient care. The unprecedented growth commands additional job opportunities. According to the Bureau of Labor Statistics, the healthcare industry is expected to add four million new jobs and account for approximately a third of total job growth by 2026.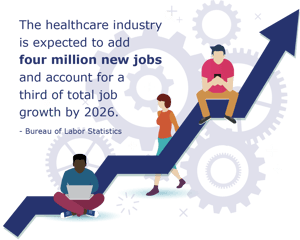 Yet like providers, most payers do not have enough qualified professionals to take advantage of the endless opportunities. The general population is growing and aging, increasing demand for healthcare services across the country. Meanwhile, 61 percent of life and health insurers plan to increase staff by July 2019, according to The Jacobson Group and Ward Group's Semi-Annual Insurance Labor Outlook Study; and recruiting difficulty still persists for nearly all functions. No matter how many business opportunities are within reach, payers cannot take advantage of them without the right talent resources in place.
Analyzing Opportunities and Risks
Many cite innovation as a driver of the healthcare industry's exponential growth. Technological advances now allow organizations to make better informed, high-impact business decisions. Digitalization has revolutionized the sector, not just for back-office activities such as billing and claims processing, but also on the front lines of patient care. Health sensors, wearables and trackers collect patient data efficiently and quickly derive actionable insights.
As a result, insurers are tasked with finding innovative talent to reimagine their futures and ultimately stay ahead of the competition. While technology presents the opportunities and can streamline many tasks and increase efficiencies, organizations still need creative talent in place to rethink business plans and strategies and execute change.
Big data, especially, has become the "backbone" of healthcare by providing a foundation for payers to build effective, personalized preventive care systems. Payers are increasingly forming joint ventures with hospital systems, sharing data and collectively deriving preventive care insights. Shared clinical data allows both parties to minimize preventable risks and provide more cost-efficient services. Experts predict payer-provider partnerships will continue to gain momentum.
To cultivate the most from these provider partnerships, insurers are increasingly searching for clinical talent with expertise in both the insurance and hospital space. These well-rounded employees are the perfect ambassadors for the new age of venture partnerships. Leveraging their first-hand knowledge and expertise of the care delivery system, clinical professionals can help insurers better understand their insureds' history and needs, improving their services and, ultimately, the wellbeing of their customers.
However, the looming industry talent shortage is preventing payers from acquiring the necessary human capital to fulfill all these growing demands. As the need for creative, tech-savvy and versatile professionals is shared across nearly all industries, health insurers encounter significant hiring challenges. To retain a lead in the healthcare market, organizations must find ways to build a sustainable talent infrastructure for years to come.
Preparing a Comprehensive Talent Strategy
It is crucial organizations rethink their overall talent management plans in order to overcome human capital risks and thrive in the age of innovation. One way payers can start tackling the talent crisis is through retention. Insurers can provide creative benefits, such as flexible work arrangements or voluntary time-off programs, to prevent employees from leaving in search of more appealing benefits.
The importance of revisiting and reinvigorating staff development programs should not be overlooked. In fact, employees who feel their companies are invested in their development and success are more likely to stay and to remain engaged. Launching internal mentoring and networking initiatives for young professionals can also minimize organizational knowledge loss brought on by mass retirements. At the same time, providing personalized training modules catered to each employee's strengths and weaknesses will help payers foster innovative, well-rounded workforces. By retaining top talent, insurers can reduce the cost of unexpected vacancies and minimize resulting business losses.
A holistic talent management strategy starts with strong recruitment efforts. Given the tightening talent pool, payers need to look beyond their traditional talent pools in search of next-generation talent. Even without a deep understanding of the industry, the right candidates can leverage foundational expertise to provide impact once they are brought up-to-speed. As digitalization and big data continue to become more and more integral to healthcare, traditional processes are being rewritten, while historic roles are being redefined. External and internal candidates should be evaluated as a sum of their unique skills and experiences rather than defining them by past experiences to ensure they can impact the organization's future state.
Technological assets can help insurers bolster their recruitment efforts. Nearly all organizations today use predictive analytics to understand ongoing trends and improve their products and services. This must extend to human resources management. Insurers need to analyze their data to identify workforce trends and adjust recruitment plans throughout the year. Analytics can help organizations predict their resource needs and map out their staffing strategies.
As the value of personnel increases at an unprecedented pace and solidifies its position as a competitive differentiator, the availability of top talent has become scarcer than ever before. To overcome the tight talent market, health insurers should vet search and staffing firms to ensure they have the right partner in place to help overcome today's challenging recruitment reality when needed.
It is important that payers look to industry-specific staffing experts to thrive in the age of innovation. Quality staffing partners possess expansive talent networks and are open to collaborating with clients to actually solve problems by providing both long-term staffing solutions and temporary stop gaps. With their years of industry experience and keen understanding of the market, strong niche partners can provide personalized talent solutions that cater to a client's missions, values and corporate culture and specific needs whether they are permanent or temporary in nature. Establishing and maintaining a strong connection with the right staffing firm can help an organization stay ahead of the talent curve for years to come.
An increasing consumer base and technological advances are presenting payers with an opportunity to reinvent the industry as we know it. Yet the opportunity also presents significant talent hurdles insurers must overcome in order to pursue their innovation agendas and future business initiatives. Organizations should employ a holistic talent management strategy from recruitment and training through to retention. Additionally, they can build partnerships with external parties to help expand talent pools and better position themselves to find and attract top talent. As all significant accomplishments come with great responsibilities and challenges, payers must proactively overcome the talent crisis to stay competitive in the future of healthcare.