In December, the U.S. economy saw total employment drop for the first time since April, following several months of slowed job growth. However, the insurance industry ended the year strong, adding 4,900 jobs in December, for a total of 26,400 net new jobs in 2020. Industry wages continued to increase year-to-year and insurance unemployment remained low, rising just 0.2 percentage points.
AT-A-GLANCE NUMBERS




INDUSTRY HIGHLIGHTS
On a year-to-year basis, November* insurance industry employment saw job increases in title (up 6.3%), claims (2.5%), agents/brokers (up 1.9%), life (up 1.5%), health (up 0.6%), and property and casualty (up 0.3%). Meanwhile, job decreases were seen for reinsurance (down 6.0%) and TPAs (down 1.2%).

On a year-to-year basis, November* marked the fifth consecutive month of industry-wide wage increases: reinsurance (up 21.8%), title (up 8.8%), property and casualty (up 6.8%), agents/brokers (up 5.5%), life/health (up 3.7%), claims (up 2.9%), and TPAs (up 1.4%).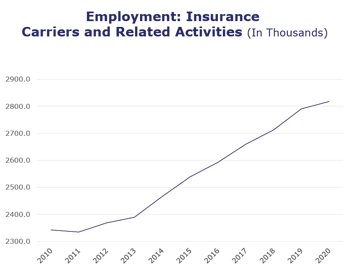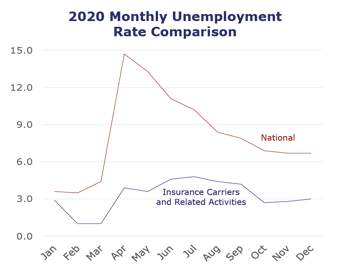 BLS Reported Adjustments: Adjusted employment numbers for November show the industry saw an increase of 3,300 jobs, compared to the previous reported increase of 600 jobs.
*The BLS reports on wages and employment for the industry category are only available for two months prior.
The source for the data represented in PULSE is the U.S. Bureau of Labor Statistics. Insurance data is derived from the insurance carriers and related activities sector.
---
As we begin the new year, we invite carriers across all sectors of insurance to participate in our Q1 2021 Insurance Labor Outlook Study, conducted in partnership with Aon. Since 2009, the study has provided valuable insights on insurance labor trends and is regarded as an accurate predictor of the industry's staffing outlook. The Q1 survey is open through January 29 and detailed results will be distributed to all participants. Additionally, as you adjust your management techniques for what 2021 may bring, view our recent guide, "Effective Management in the New Normal," for valuable insight and best practices.