It's the start of a new year and most individuals have started taking steps toward achieving their professional goals and resolutions. Last year was one like no other; goals and priorities shifted, managers led newly remote teams and external stressors weighed heavily on professionals of all levels. However, the events of 2020 also provided several lessons that will prove valuable as we enter 2021.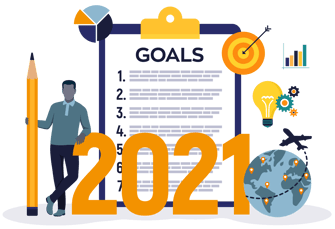 Recently, we asked a few of our Jacobson managers about the impact the past year had on their management styles and how they are approaching management in the new year. As a whole, these leaders are focused on better connections, stronger relationships and enhanced empathy. Here are some of their key insights and words of advice as they reflect on lessons learned and plans for moving forward.

Emotional intelligence is essential.
Jennifer Shorr, Assistant Vice President of Operations: Emotional intelligence continues to be important. The environmental restrictions of not seeing colleagues and staff, combined with the different sets of circumstances everyone is juggling these days, makes the ability to have meaningful and productive virtual connections vital. Not only is it central to accomplishing the work at hand, but also to supporting and caring for coworkers and our clients.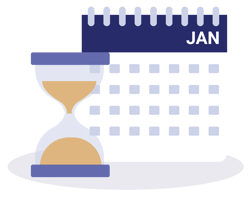 Get to know employees on a more personal level.
Judy Busby, Senior Vice President of Executive Search and Corporate Strategy: My biggest takeaway from the past year was learning to grow relationships when not in the physical presence of others. I thought I would feel less connected with employees through Zoom, but feel more connected than ever. I learned to pay better attention to individuals' tones and facial expressions, and to ask more questions about how they are doing – which I intend on continuing long after the pandemic. Two of my employees have children at home and seeing them brightens my day. Another loves to garden and I get to see beautiful backyard photos. Several others took up new hobbies. Getting a glimpse into employees' lives outside of work was one positive part of COVID and will bond us forever. All managers will need to be more intentional about integrating productivity and personal well-being in 2021, while also establishing ways for individuals to convene regularly, both within and outside of their teams.
Focus on relationships.
Tanya Rinsky, Senior Account Manager, Health: My advice to any first-time managers in 2021 is to build relationships focused on support and transparency. Be clear in expressing your expectations of an employee, while also asking what their expectations are for you. Build rapport by asking appropriate personal questions such as how their day is going and if they did anything fun over the weekend. Employees will be more likely to open up to you about work challenges if there is a foundation of familiarity and trust. Additionally, approach professional conversations from a place of support. Asking "How can I support you in achieving your goals?" or "What questions can I answer for you?" are great ways to invite more challenging dialogue and work toward solutions in a positive way.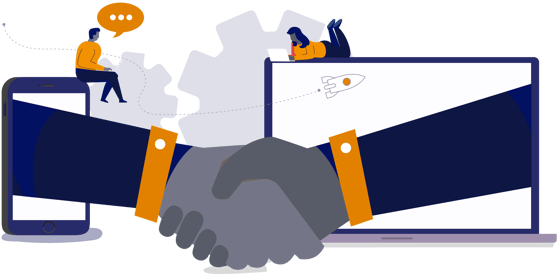 Be aware of individual needs.
Dave Coons, Senior Vice President: Everyone is different in how they embrace and adapt to change. As a manager, it's important to understand everyone doesn't arrive at the same place at the same time. It's necessary to adjust your approach to coaching and mentoring in order to help individual employees through the process and achieve optimum productivity. While the pandemic was a disruptor on many levels, as a manager I learned how to be more creative and thoughtful in addressing employee concerns and problems. Despite truly adverse challenges, our team is stronger and more resilient than ever.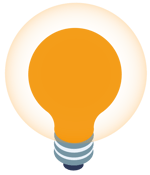 Continue to grow and empower employees.
Nikki St.Martin, Vice President of Marketing: No matter what is going on in business or the world around us, developing and continually challenging employees should always stay top of mind. If you are not growing your employees, you are not nurturing your greatest asset. At the same time, managers must remember creative and powerful ideas don't always come from the top. Build a culture of brainstorming and teamwork. Create a safe and nonjudgmental space for your employees to share their ideas. Intentionally solicit ideas from all your employees, making a point to ask for the opinions of those who might not speak up on their own.
Managers have been thrust into uncharted territories in the past year. Read our recent Insurance Journal article for more on the leadership qualities that will be valuable now and in the future. And, as you look back on your employees' performance in 2020 and solidify their professional goals for 2021, our recent blog post, "Performance Management in the New Reality," may be helpful in refocusing expectations.