The insurance industry saw unemployment drop from 4.2% in July to just 2.9% in August. This came with a slight decrease in industry jobs, continuing a five-month decline. While the Bureau of Labor Statistics reports industry employment is just shy of where it was one year ago, our Q3 2021 Insurance Labor Outlook Study indicates growth in the coming year; 93% of insurers plan to maintain or increase their staff sizes in the next 12 months.
Today's labor market continues in a state of flux and is undergoing several layers of change, all playing out at varying levels of intensity. It's likely the BLS numbers will adjust in the coming months to reflect these shifts. Professionals are reevaluating their long-term goals and being more proactive in making career moves. Many have shifted their priorities and expectations when it comes to balancing their work and personal lives. Additionally, vaccination requirements and other COVID-19-related measures will likely influence how employees view their current and potential employment opportunities. We're continuing to see accelerated activity within the insurance labor market and recruiting remains a challenge for most roles, especially for companies requiring employees to relocate or be in the office regularly.


AT-A-GLANCE NUMBERS


Unemployment for the insurance carriers and related activities sector decreased to 2.9% in August.
The insurance carriers and related activities sector lost

800

jobs in August.
At roughly 2.9 million jobs, industry employment decreased by approximately 300 jobs compared to August 2020.
The U.S. unemployment rate decreased to 5.2% in August and the overall economy added

235,000

jobs.
INDUSTRY HIGHLIGHTS
On a year-to-year basis, July* insurance industry employment saw job increases in title (up 13.7%), agents/brokers (up 2.2%) and claims (up 1.4%). Meanwhile, job decreases were seen for reinsurance (down 4.8%), property and casualty (down 3%), TPAs (down 1%) and life/health (down 0.4%).

On a year-to-year basis, July* saw weekly wage increases in reinsurance (up 10.8%), agents/brokers (up 3.7%), life/health (up 2.5%), property and casualty (up 1.2%) and TPAs (up 0.5%). Meanwhile, wage decreases were seen for title (down 1.1%) and claims (down 1%).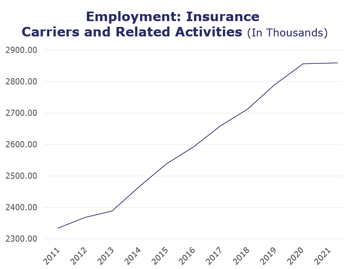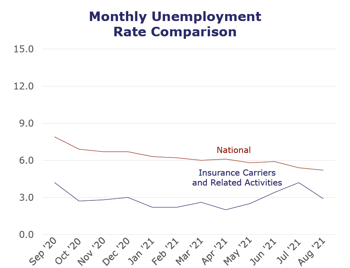 BLS Reported Adjustments: Adjusted employment numbers for July show the industry saw a decrease of 3,200 jobs, compared to the previously reported decrease of 1,500 jobs. The BLS continues to revise numbers to be most accurate, which may contribute to inconsistencies, depending on when reports were pulled.
*The BLS reports on wages and employment for the industry category are only available for two months prior.
The source for the data represented in PULSE is the U.S. Bureau of Labor Statistics. Insurance data is derived from the insurance carriers and related activities sector.