Automation, artificial intelligence and other emerging technologies are transforming the insurance industry. As virtual work environments become the norm, the pace of change is further accelerating to accommodate shifting employee and customer expectations. Underwriting roles continue to evolve into multi-faceted positions with expanding responsibilities.
We previously discussed the future of underwriting in this white paper. As we shared, traditional underwriting roles are evolving as data becomes even more abundant and automation simplifies basic tasks. This has been further accelerated by the virtual business environment and remote, data-driven assessments. Today's underwriting professionals are responsible for analyzing data, translating technical concepts, building relationships, serving as innovators and much more. At the same time, they are working with numerous teams and flexing their skills across various departments.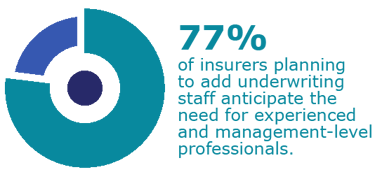 According to our Q3 2020 Insurance Labor Outlook Study, the likelihood for carriers to increase underwriting staff has remained consistent throughout the last six months, in spite of the pandemic. Underwriting roles are moderately difficult to fill within the overall insurance industry and tied with actuaries as the most difficult positions to fill among life/health carriers. Our study found that of the insurers planning to add underwriters to their teams in the next year, 77 percent are seeking experienced and management-level individuals.
As underwriting transforms, there are a number of skills tomorrow's underwriting leaders will require in order to be most successful.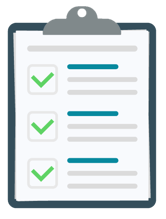 Effective Communication: Underwriters, especially underwriting leaders, must be able to effectively communicate across business units, as they partner with actuarial, data analytics, IT and more. Relationship-building is becoming more important as silos break down and teams focus on interdepartmental collaboration. Additionally, as more tedious tasks are automated, underwriters will be able to focus more time on client-facing and relationship-building tasks.
Natural Curiosity: Today's underwriters must marry art and science. While automation provides a base of information, successful underwriters will dig into the data to pull out relevant insights and analyze any inconsistencies. New technologies and advancements with IoT will enable underwriters to better measure and determine risk at the individual level, while telling a holistic story. In today's world, data is abundant, yet a curious human eye is required to make it most impactful.
Critical Thinking: Human judgement will not be easily replaced. Well-developed critical thinking and problem-solving skills enable underwriters to analyze complex issues and supplement automated information. It's important that quantitative analysis is blended with qualitative insights to be most effective.
Setting Up Your Team for Future Success
In addition to seeking out new skill sets, underwriting leaders will need to adjust their management styles to set teams up for future success. There are several ways underwriting departments can adapt to meet current and future needs:
Embrace remote work without sacrificing productivity.
Insurers are now set up to effectively operate in a remote environment and the majority will continue providing flexible work options. Even as employees return to the office, it's important to offer work from home opportunities to stay competitive. The Q3 2020 iteration of our Insurance Labor Outlook Study found more than three-quarters of carriers plan to allow employees to occasionally work from home and half will offer full-time remote work. Today's underwriters expect flexible options in work locations and hours. Organizations that do not accommodate these needs will risk losing top talent.

Rethink training.
As automation infiltrates the industry, training must also be reevaluated. Previously, insurers would use simpler cases as a starting point for training new underwriters. Now, these smaller and easier cases are being handled automatically. If more junior team members aren't ready to take on complex cases independently, focus on providing them with opportunities to shadow more seasoned underwriters. You may also consider training specifically for soft skills, which are increasingly important for underwriting success.
Leverage temporary employees.
Maintain productivity while avoiding staff burnout when experiencing increased workloads and undergoing special projects. Many insurers incorporate contractors as part of their comprehensive talent strategies, preparing for potential unforeseen needs and to support staff during busy seasons. Recognize how your department can benefit from a hybrid workforce and understand best practices for effective management, even if you don't have an immediate need.
Focus on a positive virtual culture.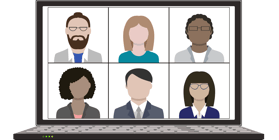 Even when some or all staff is working remotely, it's important to make sure everyone feels they are part of a cohesive team, including contractors. Maintain face-to-face contact by leveraging video conferencing whenever possible. Schedule all-team meetings on a regular basis and connect with employees one-on-one to see how they are doing on both a personal and professional level. Focus on frequent and transparent communication to recreate the office environment and build employee morale.
Access to data and automation continues to increase. Underwriters must harness this information and determine how to maximize both human skills and technology. At the same time, leaders must rethink management techniques and team structures to accommodate for the changing landscape and ensure success for years to come.