Last spring, insurance leaders quickly pivoted and adjusted their management strategies to accommodate the remote environment. Now, even as some organizations begin to reopen their physical office locations, work-from-home and hybrid arrangements are here to stay. As leaders develop and evolve their virtual management skills, it's vital to account for individual employee needs, work styles and life stages to build supportive and productive teams.

There are currently five generations in the workforce: Generation Z (born after 1996), Millennials (born between 1981 and 1996), Generation X (born between 1965 and 1980), Baby Boomers (born between 1946 and 1964) and Traditionalists (born between 1928 and 1945). At one end of the spectrum, new graduates are embarking on their first jobs in a virtual world. At the other, seasoned professionals are retiring following decades of work. And, in the middle, individuals are starting families, sending older children off to college, caring for aging parents and moving into leadership positions. To engage generationally diverse teams, leaders must focus on supporting and motivating a broad spectrum of talent.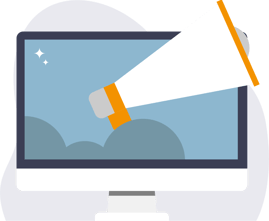 In our most recent issue of Compass, David E. Coons, senior vice president, shares techniques for effectively managing across the generations. Rather than emphasizing perceived generational differences, he focuses on ways to bring the generations together and leverage their unique attributes and strengths. This includes finding ways to build camaraderie and unite team members, while acknowledging and respecting individuals' current situations and challenges. A few best practices he highlights include the following:
Communicate frequently and directly.
While communication is a hallmark of strong leadership, it is even more vital during times of uncertainty and limited in-person contact. Leverage a variety of communication channels and provide numerous opportunities to connect both informally and formally to best resonate with your multi-generational team's different learning styles and communication preferences.
Bring the generations together.
The virtual environment makes it necessary to be intentional in connecting individuals across generations and professional levels as they seek out advice, knowledge and insight. In the physical office, it's more likely team members would interact in breakrooms or catch up before and after meetings. Unfortunately, this doesn't happen as naturally via Zoom calls and an already existing knowledge gap between the younger and more seasoned generations is growing. Create an environment where ongoing support and knowledge-sharing is encouraged and normalized.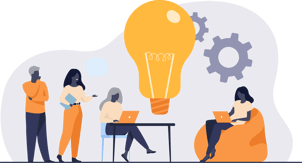 Offer support.
All employees are dealing with different challenges and stressors. And perhaps surprisingly, research indicates younger generations have felt the largest impact from the pandemic. Nearly 40% of Generation Z said their mental health has been negatively affected, compared to just 15% of Baby Boomers. Many employees have likely felt isolated and overwhelmed, both personally and professionally. Take the time to understand the challenges your employees are going through and work with them to determine how you can best provide support.
Even as some employees begin to return to the office, full-time remote and hybrid work arrangements will likely outlast the pandemic. In this new way of working, effective management is key for inspiring generationally diverse teams. For more insight, view the full article, "Virtual Management that Transcends the Generations," in the most recent issue of Compass. Sign up to receive Compass in your inbox each quarter by clicking here.